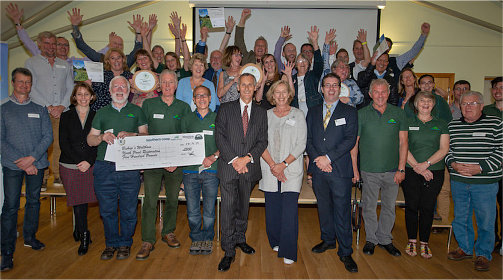 Congratulations go to the winners and finalists of the 13th Annual Hampshire Countryside Awards, announced at a special ceremony attended by over 100 guests at the Littleton Millennium Memorial Hall in Winchester. Guests included Nigel Atkinson Esq, HM Lord-Lieutenant of Hampshire, the Vice President of CPRE Hampshire, John Cooper CBE, the Mayor of Winchester, Cllr Eleanor Bell and Deputy Mayor of Winchester, Cllr Patrick Cunningham.
A diverse and inspiring selection of groups and projects from across the county, all of whom are working towards a flourishing countryside, were selected by the Countryside Awards judges following a set of visits held throughout July and August.
The finalists were invited to attend the ceremony in order to showcase their work and build links with other projects within Hampshire. All 15 finalists were presented with a certificate by Nigel Atkinson Esq, HM Lord-Lieutenant of Hampshire who closed the Ceremony with the presentation of commemorative plaques to the five well-deserved Winners.
Amoungst the Winners were:
Young People – Sponsored by Forest Holidays: Sustainability Centre - Sustainable Landscapes
Working with young people aged 10-19 who struggle with traditional classroom learning, offering specialist outdoor conservation work.
Rural Enterprise – Supported by Hampshire Fare: Chalk Stream Foods
Promoting and producing sustainable food products and the importance of sustainable aquaculture practices and good husbandry.
Making Places – Sponsored by Hastoe Housing: Mayfield Community Partnership - Hawley Community Garden.