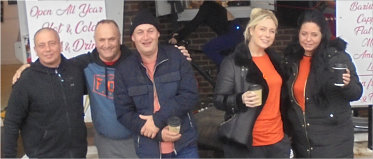 When 18 year old Cassie Buckland was diagnosed with aggressive Leukaemia and rushed into Southampton General Hospital she had no idea of the massive community support she and her family would receive.
Cassie, from Westbourne, had been working at the popular John's café on Hayling Beachlands for six months and had already established herself as a hard working, kind hearted young lady with a smile for everyone. Café owner John Priestley and his staff immediately decided to start a fundraising campaign as Cassie would be unable to work for a long period of time.
Cassie's mother Hayley Buckland said it was amazing to see all the love and support being shown and how it was helping her daughter cope with the illness. After 9 weeks in hospital and losing 3 stone in weight Cassie has had her 1st treatment of chemotherapy with 2 more rounds to come. A suitable bone marrow donor is being sought and both Cassie's brother and sister have been tested for suitability and are awaiting results.
Over two days of continuous strong wind and driving rain outside John's café, riders continuously rode a static cycle turbo trainer kindly loaned and operated by Cameron Shepland (Cammy) for the full 24hrs without a break.
Amongst those taking part were Cammy, Angie Walker and Lucy Edge -members of the Paris to Hayling ride clocked up over 60 miles between them after cycling for 2 hr stretches at a time.
Angie (62yrs) did her stint of 21miles at 0350hrs.
Another rider 10yr old Alfie Chandler (right) who was continuously challenged by member of the public to keep cycling as money was donated for every extra mile he completed raising over £62.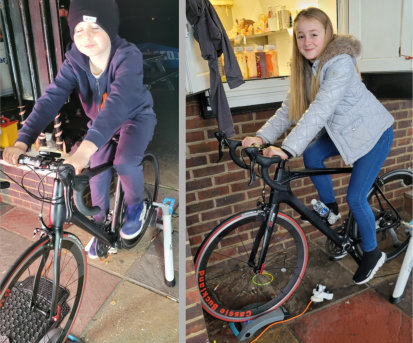 Two men turned up in the early hours saying they had just been to a wake and dropped £20 into the bucket before riding the bike and then walked off into the night.
Army veteran & Community First Responder Shaun Leinster although not having ridden a cycle for years turned in an impressive 16.6miles in 1hour before going on call as a Hayling CFR throughout the night.
The final 20 minutes was ridden by Cassies younger sister Tilly Buckland (left)
The total mileage covered by 1200hrs on Sunday 27th November was 282.6 miles.
Although the final amount raised will not be known for some time as donations will still be coming in the firm expectation is that it will be over £9,000 including £500 from a bucket collection at Portchester Football Club and a substantial sum from 25 of the motorcycle bikers, including the Gosport Motorcycle Social, who frequent John's café during the summer months and rode in on the Saturday to show their support.
The Bikers have promised a massive motorcycle cavalcade for Cassie when she comes out of hospital.