This year we were excited to be able, with the help of some fantastic individuals, to raise enough funds to purchase a 'nurdle trommel'.
The trommel is a piece of kit that helps to remove secondary microplastics and particularly primary plastic nurdles from sandy beaches. Made by Nurdle Coasts, this equipment helps to reduce the man hours put into trying to collect the tiny bits of plastic that we would otherwise struggle to collect from beaches. We have used it to remove many thousands of microplastic pieces, some of which used to be part of something bigger made from plastic and some which are the primary plastic pellets (nurdles) used in the manufacture of plastic. It is a sad fact that many manufacturers do not seem to take care when handling these nurdles and they contaminate our seas and coastline in their millions. This is a particular problem around areas where we find breeding seabirds, who mistakenly pick up the nurdles thinking that they are fish eggs and often feed them to their chicks.
While the amount of microplastic we pick up using the trommel can be impressive, unfortunately in the face of the amount of microplastic pollution along our coasts it doesn't make a huge impact. However, and this is the key point, it is a fantastic (and quite fun!) way to raise awareness of the issue, and we find it really helps us to illustrate the scale of the problem we face and helps us to be able to put pressure on the companies that are causing this pollution. It helps us to collect large samples and we can feed that data to other organisations also working on the issue such as Fidra and the Great Nurdle Hunt.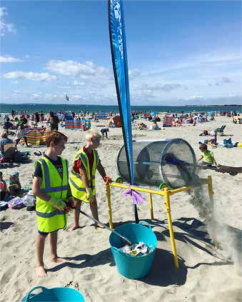 So far the campaign has been incredibly well supported from the sales of our water bottles, originally funded by Portsmouth Water and Postcode Publications. We have been incredibly touched to have received donations from individuals and schools who have fundraised to help support our work. Several businesses that have requested our help on beach cleans to fulfil their corporate social responsibility committments have followed up by donating to the campaign, often as a result of being so shocked by the amount of litter we removed together on a clean up. With these funds we have purchased and donated to local schools; 500 bamboo toothbrushes, 1,000 metal water bottles, 1,000 reusable tote bags and 50 sets of 3 books on plastic pollution, as well as using some of the funds to purchase more beach cleaning kit essentials.
The campaign has also had fantastic support from the Village Hotels and Sunsail, who enabled us to purchase 5,000 reusable bags to distribute to school children that participated in our 8th May Single-Use Plastic Free Day. Last but not least, Havant Borough Council and the Emsworth Business Association sponsored 2,000 reusable bags to be donated throughout shops in Emsworth. Bags were given out to shoppers to try to eliminate the need for plastic bags in the village.
All of this support has not gone unnoticed and we are astounded by people's generosity and passion for the environment. As the campaign continues to grow, we will continue to support local schools and communities and help them on their journey to being single-use plastic free wherever possible.