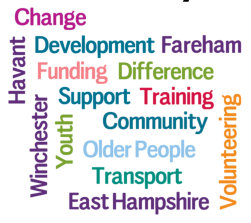 Community First and Community Action Fareham completed their merger on 1st April 2018. The new organisation will continue to be known as Community First and now provides services and support to the community and voluntary sector across East Hampshire, Fareham, Havant and Winchester and also delivers essential community transport services in Basingstoke & Deane and Gosport.
Whilst it remains a challenging time for many charities, this merger demonstrates a commitment to serving and supporting local communities enabling the organisation to consolidate its management and back office functions whilst retaining and investing in its local delivery teams. There are no changes to services but there are clear opportunities to share expertise and innovation across a wider part of Hampshire. The new organisation will expand its training offer to the sector, with a new and exciting apprenticeship programme building leadership and management skills in charities; seek to expand the successful Home Help services in Fareham and other health and well-being services work with Hampshire County Council to provide innovative and effective solutions to maintaining community transport services.
The merger was driven by a desire to improve the impact and reach of the voluntary and community sector. The new organisation will continue to maintain close links with local groups and be responsive to their needs, whilst also looking outwards to ensure that new funding opportunities are pursued to the benefit of local communities.
This is particularly important in the context of rapidly changing health services. Community First is already engaging and influencing new models of care and as a larger, strategic organisation has the ability to build long term partnerships and unlock funding to make social prescribing an inherent part of these new models of care.