We've a smile on our faces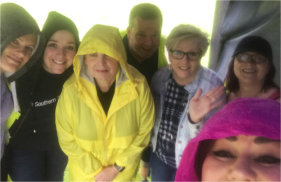 The sun shone as the volunteers gathered for the summer fete. As stallholders and commercial vehicles started to arrive the heavens opened. The rain was torrential. The paths were flooded and the volunteers with no rain protection were soaked but the vehicles kept arriving and the rain kept pouring down but the volunteers stayed at their designated spots! It was decided that if things had not improved by 10am the fete would have to be cancelled. Then suddenly the sun came out, the ground dried, the gazebos went up and the fete went ahead, and what a day! It was fabulous with music, dance, stalls, fairground, dog show and plenty for children and families to do. When the last volunteer left the field it was with the thought that the hard work of volunteers had been worthwhile. It proved the aim of the Events Team. Building Community for OUR Town! Ssee you all next year!
Check us out on Facebook, blog (weteam) or twitter.