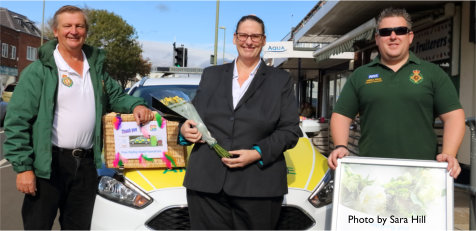 After only twenty-one months of serving the Hayling, community the branch closed on the 16th October.
During this time the branch Funeral Arranger Teresa Thompson has wholly heartily embraced the Island community and will be sorely missed by all the organizations and individuals she has assisted.
She supported the litter picking on the beach, the Christmas late night shopping with free drinks, had leaflets supporting Island charities and good causes printed and distributed and collected donations for the Bridge Centre food bank.
As a former RN Wren for over seven years Teresa was a fervent supporter of the Armed Forces giving over the entire front window for displays supporting the forces charities.
Teresa has managed the Co-op premises from its opening in 2019 having moved over from being deputy manager of Age Concern UK in Leigh Park for thirteen years, hence her support for those organizations on the Island helping elderly people.
Teresa leaves the Island just prior to the Co-op announcing which three good causes on Hayling will be chosen to receive community funding over the next year.
The five contenders for which Teresa has received applications and has supported are: Hayling Island Community Centre, Hayling Men's Shed, Thursday Club Youth Sailing Scheme, RNLI Hayling and Heart of Hayling Boxing Academy.
In a final gesture of goodwill Teresa is seen above presenting Phil Prichard and Dave Clarke from Hayling First Responders with a hamper in recognition of their year round voluntary work.
Hayling First Responders leader Phil Prichard thanked the co-op for their support for the Islands voluntary groups. He thanked Teresa and the Co-op for their generous donation of the hamper
Fortunately, Teresa will not be entirely lost to Hayling as she will be the Funeral arranger at the Co-op premises at 28A North Street, Havant where she will devote one of the two large windows to Hayling to promote its community.