Portsmouth charity worker Rachael Ross, founder of children's charity Portsmouth Down Syndrome Association, has been awarded the prestigious Portsmouth Civic Award in recognition of her outstanding contribution to education, Down syndrome, charity work and fund-raising for the past fifteen years.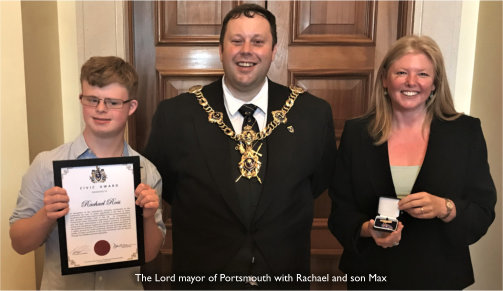 Rachael served as a trustee for Down Syndrome Education International for over five years before co-founding Portsmouth Down Syndrome Association, which provides social opportunities and specialist educational support for children with Down syndrome, as well as training for the NHS, schools and parents. In her role as chairperson, she has worked at forefront of improving education and social opportunities for children with Down syndrome, as well as driving all the charity's fund-raising initiatives. Over the years, Rachael has also galvanised the community to help raise hundreds of thousands of pounds for Down syndrome charities.
This isn't Rachael's first citation, and her efforts were previously rewarded when former Prime Minister David Cameron presented Rachael with a Points of Light Award in 2015.
Rachael, who lives in the hamlet of Hinton Daubney near Lovedean said, "It was a huge honour to have been recognised in this way for doing something that is so important to me. This award is a tribute to the dedication of our very small but brilliant team at Portsmouth DSA, our wonderful families, and the community whose collective efforts and support have helped to make a real and positive difference to the lives of children with Down syndrome."
The Lord Mayor of Portsmouth, Cllr Lee Mason, who presented Rachael with her award said, "Rachael is a truly inspirational individual. She has utilised her background in education and business to make an outstanding contribution to society, demonstrating her commitment to the city of Portsmouth for many years. Through her tireless work and dedication, she has successfully raised the profile of education and Down syndrome in the local community and far beyond."