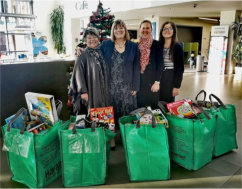 For the sixth year Postcode Publications together with Havant Borough Council staff and councillors donated more than one hundred and thirty presents to the SDAS (Southern Domestic Abuse Service).
The gifts were distributed to local children, who may not otherwise have anything to open at Christmas.
Gill Kneller, Chief Executive at Havant Borough Council, said: "Thanks to the generosity of staff and councillors here, many children will now have some fantastic gifts to open on Christmas day. We are proud to take part in supporting the Southern Domestic Abuse Service with donations of Christmas presents, giving families the Christmas day that they deserve."
Gifts were also donated to make up hampers for adults supported by the charity. Items donated included toiletry sets, food items, fluffy socks, pyjamas and blankets.