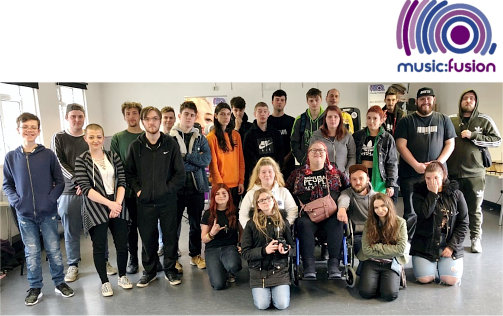 The young people of Havant based, Music Fusion, are preparing to launch its fourth album, Mavericks II, in its 'Words not Weapons', campaign to challenge issues surrounding the influence of gang culture.
Music Fusion, is a charity that helps young people going through challenging circumstances to find a better path through music. They have been running since 2002 and have helped more than 30,000 young people in that time.
Its 'Words not Weapons' project has been running since 2011 and has gathered pace and momentum in seven years. The first album involved just eight young people and now Marvericks II will work with more than 100 musicians.
The music and lyrics performed and written by these young people will create a thought provoking compelling journey of hope. Telling young people to think for themselves, stand up for themselves and don't be like sheep and follow the crowd.
The charity's aim is to empower young people to make informed decisions and spread a positive message that there are other ways and paths to take.
Jinx Prowse CEO at Music Fusion commented; "There have been a multitude of shocking stories recently surrounding knife and gun crime. In London and other parts of the country we have seen a drastic increase in knife and gun related incidents and it continues to grow.
"Young people are disengaged, disillusioned and have a lack of positive role models. There are fewer youth clubs, open access music provision and things for them to do. Some youngsters may not have the advantages of others and feel cornered. They can't see a way out, so turn to drugs, crime and gang culture as a result."
Mike James, Music Fusion Operations Manager, continued; "It's the negative cycle we aim to break. All of our young people are extremely talented, intelligent and motivated.
"They are just looking for something to focus their energy, a cause to get behind. We give them the tools to enable them to express themselves whilst at the same time making their communities safer places to live."
During the next nine months young people will be recording a double album of Hip-Hop, Grime and Rap music that tackles difficult subjects including knife and gun crime, drug abuse, mental health and poverty.
There will be a filmed documentary, meeting, writing and recording with VIP artists, culminating in a run of live shows to get their positive messages to the masses.
Matt Stevens, Music Fusion Project Manager added; "Doing the right thing isn't always easy, if the environment you're in promotes violence, crime, racism and homophobia. It's easier to stay quiet or even start to share the same values. We aim to have open discussions about people's perceptions and challenge them in a positive way."
If you want to know more about Music Fusion visit www.musicfusion.org.uk