Rachael Ross, chairperson of Portsmouth Down Syndrome Association received her MBE for outstanding service in the field of education and Down syndrome. Rachael's achievements were recognised earlier in the year when she was made an MBE on the Queen's Birthday Honours List in June, and she received a special invitation to attend her investiture in London on 21st November from Her Majesty the Queen.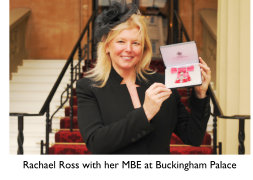 Rachael, who lives near Lovedean, founded Portsmouth Down Syndrome Association ten years ago to provide the specialist services children need to thrive and reach their full potential. Under her expert leadership, Portsmouth DSA has continued to grow from strength to strength to become a leading specialist service provider in the UK.
Rachael says, "It was a real honour to have been presented with my MBE by Her Majesty the Queen at Buckingham Palace. The Queen immediately put me at ease by asking about my work and the charity, and I was able tell her about some of our achievements."
"I'm so incredibly proud to have been made an MBE. This honour will help to further raise the profile of the charity and also highlight the importance of the work we are doing. As a society we are only just beginning to fully recognise and celebrate the wonderful potential of individuals with Down syndrome and I'm more resolved than ever to raise awareness and promote inclusion, because when individuals with Down syndrome are included and given the opportunity to participate, the whole community benefits."
"I never fail to be amazed by our wonderful children at the charity and all they are capable of achieving, and I'm hugely proud of the small but brilliant team at Portsmouth DSA, our families, volunteers and the local community whose collective efforts and support have helped to make a real and positive difference to the lives of children with Down syndrome."
This is not the first time Rachael's hard work has been recognised. She was previously awarded the Point of Light Award by former Prime Minister David Cameron, for outstanding charity work, and she has also received the Portsmouth Civic Award.
Rachael's husband Ken says "We are all very proud of Rachael and her achievements. She has worked tirelessly to raise the profile of Down syndrome in the wider community and to ensure that the charity members have access to the social and educational support they need to succeed. Everyone agrees she is a truly remarkable individual and very deserving of this award."
As Portsmouth DSA continues to grow, it has recently launched its New Building Campaign and hopes to raise the funds it needs to relocate to a larger premises in Old Commercial Road. This will allow the charity more freedom to deliver its services and afford the space needed to expand and meet increasing demand, and to take on exciting new projects.