Holborow Lodge, Chalder Lane, Sidlesham, W. Sussex PO20 7RJ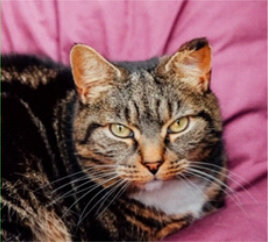 Hello from your favourite out and about reporter at the Cat and Rabbit Rescue Centre, Hulky Bear.
Hope you all had a lovely Christmas and all your fur babies got spoiled. We are still just as busy at The Centre as we have hundreds of animals waiting for their forever homes. We usually have some lovely volunteers on Christmas and Boxing Day to help with the animal care to give my staff a little bit of time off to spend with their families.
I'm pleased to say we are finally having some much needed work done on the barn. The underfloor heating is going in and this will also improve the flooring in there. This is going to make such a difference to the animals that spend time in there. The barn is generally used for new intake cats as well as rabbits & guinea pigs and some of my fellow out and abouters who sleep up the top in the hay.
Last time I told you about how we had lost one my best friends Caellum. His memory still lives on at The Centre as he is so missed. Fundraising is now well underway for the Caellum Fund and I would love it if my readers could get involved and support my staff and volunteers as they take on their 20 challenges for 19 years of Caellum's life plus one for luck. We are hoping to raise much needed funds for something very special in Caellum's name, please check out our website for more information and how to donate (www.crrc.co.uk/caellums-fund).
We had an amazing Viewing Day in October with 26 cats or kittens being rehomed. It was one of our best viewing days this year, I hope they are all very happy in their new homes. I also just wanted to mention we don't have a viewing day in December as it would be so close to Christmas and we do shut for a little bit before but we are back open again after Boxing Day.
Happy New Year. Love Hulky x
PS: If you are interested in adopting a cat, kitten, rabbit or guinea pig then please call.
PETS OF THE MONTH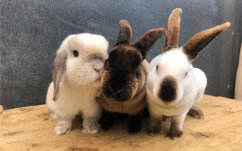 Walkers, Mirror Dory and Ms Molly Walkers
Allow us to introduce you to three gorgeous bunnies called Walkers, Mirror Dory and Ms Molly. Walkers is a neutered white and grey lop eared bunny, Mirror Dory a brown rex and Ms Molly who is white and brown are both spayed females. They are all around 18 months old and get on really well with each other. They have been living here at The Centre since 27th April 2019 as their previous owner could no longer keep them. They are all really sweet and friendly rabbits that are happy to be handled especially the boy who loves a stroke. Because they get on so well we would love to rehome them together and this means who ever adopts them will need larger accommodation that will suit all three of them. These are really sweet bunny's that will make a great addition to someone's home and we just really hope we can find a home for all of them together.
If you think you may be able to give Walkers, Mirror Dory and Ms Molly the new home they deserves please give The Centre a call Monday to Friday 9am-4pm.