Holborow Lodge, Chalder Lane, Sidlesham, W. Sussex PO20 7RJ
Hulky Bear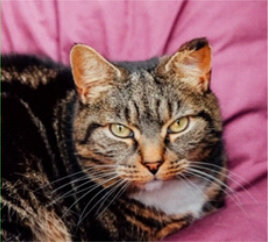 Hello from your favourite out and about reporter at the Cat and Rabbit Rescue Centre, Hulky Bear.
This month I am so excited to let you all know how we did at our Summer Fayre back in August. I can't believe it but it was a record breaking total, our best ever year! The total raised was £19,286.62, I couldn't believe how amazing all our supporters were in helping us to raise this total, it will really help to keep the centre running. We also got donated lots of cat food (yum!), rabbit/guinea pig food, scratch posts, blankets and some cleaning products. A big thank you to everyone that came, all the volunteers that helped and everyone that donated items for the event.
I wanted to tell you about a kitten that came into The Centre recently. I was relaxing outside reception when I saw a man turn up with a box which by the noise it was making I could tell it was a cat. The staff opened the box and out popped a very cute 4 month old male kitten. He was so friendly and all he wanted was cuddles from the staff, what a show off I thought. It turned out this kitten was found in the engine of a van travelling from Southampton and was only noticed when the driver made a stop in Clanfield. That must have been so horrible for him but he was fine, none the wiser for his ordeal. The kitten moved into a pen with some other kittens and he soon made best friends with a 4 month female kitten, she was found as a stray and is a little bit shyer than him but he looks out for her. These two are now looking for their new forever home together. Fingers crossed they find it soon!
Everyone at The Centre is getting busy arranging our Winter Fayre look out for more details on our website or facebook.
If you are interested in adopting a cat, kitten, rabbit or guinea pig then please call us here at the centre on 01243 641409 between 9-4pm during the week.
PET OF THE MONTH
Butter Toffee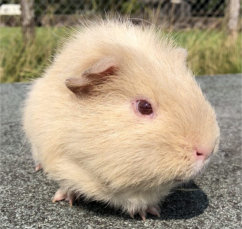 This month allow us to introduce you to Butter Toffee. Butter Toffee is a very handsome 3 year old male guinea pig who is looking for his forever home. He arrived at The Centre back in March because the other guinea pigs at his home had died and his owner did not want him to be on his own. He is now waiting to find another male guinea pig which he can bond with as he would love some company. He has been at The Centre for a while but this is because he had a small problem with his genitals that took some time to heal up and he's fine now. Butter Toffee is very happy to be handled and enjoys a cuddle. He will make a great addition to someone's family and a new best friend for another lonely guinea pig.
If you think you may be able to give Butter Toffee the new home he deserves please give The Centre a call Monday to Friday 9am-4pm.
PS: We have a Viewing Day Saturday 23rd November from 12-2pm.Viewing days are non-appointment days so people thinking of adopting a cat can pop along. Otherwise we rehome 7 days a week by appointment only.