Holborow Lodge, Chalder Lane, Sidlesham, W. Sussex PO20 7RJ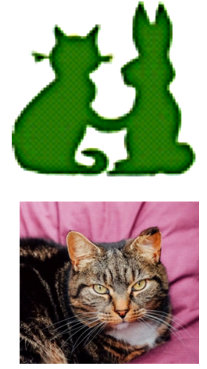 Hulky Bear
Hello from your favourite out and about reporter at the Cat and Rabbit Rescue Centre, Hulky Bear.
The other day while snoozing in the sun outside of a window I overheard some of my staff talking about this year's statistics. I was surprised I actually found it very interesting but also a little bit shocking. Anyway I thought I would share it with you, it's the number of animals we have taken and rehomed in the first half of this year. These statistics run from the beginning of January to the end of June. So let's start with the cats, this year we have taken in 435 cats and kittens and rehomed 306. For the rabbits we have taken in 59 and rehomed 46, also the guinea pigs 72 taken in and 46 rehomed. That's 566 animals, wow that's a lot and it doesn't even include the animals we were offered but couldn't help. I did a little of my own research too and found out that at the same time last year we had taken in 532 animals and rehomed 37 more than this year. It's quite sad really that the number of unwanted animals is still rising. We also need to rehome more animals of course, so if anyone is looking you know where to send them!
If you are interested in adopting a cat, kitten, rabbit or guinea pig then please call us here at the centre on 01243 641409 between 9-4pm during the week.
PS: We have a viewing day on the 24th August 12-2pm. Viewing days are non-appointment days so people thinking of adopting a cat can pop along. Otherwise we rehome 7 days a week by appointment only.
PETS OF THE MONTH
Elderflower Gin and Raspberry Gin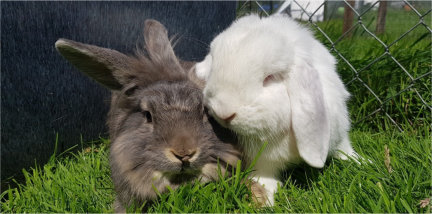 This month allow us to introduce you to the gorgeous bunnies, Elderflower Gin and Raspberry Gin. These girls have been with us at The Centre since the 8th December 2018 because their owner was no longer allowed to keep them where they were living. Elderflower Gin is the white lop bunny and she is 2 years old. Raspberry Gin is the grey Lionhead and she is 10 months old.
These two are both very sweet and inquisitive bunnies who like to come over and see the staff when they clean them out. They are both happy to be handled and enjoy having a fuss made of them. If you're considering adopting a pair of rabbits these two would make a great addition to your home. They would happily live with older, calm children.
If you think you may be able to give Elderflower Gin and Raspberry Gin the new home they deserves please give The Centre a call Monday to Friday 9am-4pm.