Holborow Lodge, Chalder Lane, Sidlesham, W. Sussex PO20 7RJ
Hulky Bear


Hello from your favourite out and about reporter at the Cat and Rabbit Rescue Centre, Hulky Bear.
Preparations are well under way for our Summer Fayre don't forget Sunday 11th August 2019 from 11am-4pm. Please come and see us and join in the fun, win some prizes, find some bargains and meet some of our wonderful animals who are looking for their forever homes.
Remember I told you about our quiz we held in May? Well I am happy to say it was a huge success with nearly 100 people taking part and having a great evening.
I checked in and made sure everyone was enjoying themselves, I thought I better not go and join in, in case I gave away any of the answers. I am already working on the next one, putting together lots of new questions.
We always have lots of cats of all sorts of ages at The Centre looking for new homes. Often we have many of what we call 'Golden Oldies'.
These are older cats that are often passed by for a younger cat. Older cats can make great companions and often love to spend their time at home on a warm lap enjoying your company staying closer to home rather than roaming. Cats can live to late teens and older being a little older they still have many years to give often enjoying playtime too. Unfortunately these cats are quite often over-looked due to their age and we understand that there are concerns of illnesses and veterinary costs.
The Centre now has a wonderful programme in place for cats over 14 called our Foster Care Scheme which will provide this ongoing support for you and your cat. If you are thinking of adopting a cat please think about our oldies and give us a call we can explain the scheme in full detail.
Let's find homes for them all. Just look at Thetis our Pet of the Month she has so much love to give you. We hope this scheme will encourage people to consider one of our older cats. We look forward to seeing you very soon.
If you are interested in adopting a cat, kitten, rabbit or guinea pig then please call us here at the centre on 01243 641409 between 9-4pm during the week.
PS: We have a 27th July 12-2pm. Viewing days are non-appointment days so people thinking of adopting a cat can pop along. Otherwise we rehome 7 days a week by appointment only.
PET OF THE MONTH - THETIS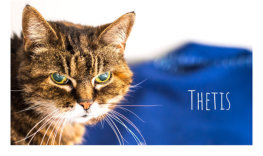 This month allow us to introduce Thetis one of our 'Golden Oldies' gorgeous 16 year old tabby girl. Thetis loves human company and is looking for someone who would be able to be with her as much as possible.
Thetis arrived at The Centre in February as her owner very sadly passed away and she has been very lonely when the staff and handlers go home. She loves having a cuddle and being stroked and would happily sit with you all day if she could.
Thetis would like to go to a nice calm, quiet home. Being an older lady she does have a couple of health issues, suffering from high blood pressure, meaning her eye sight is not 100% and she is pretty deaf, with a very loud meow, also a bit arthritic as well.
Due to these health issues and her age Thetis is part of our Full Foster programme this means we cover all her health issues as long as she comes to our vet at The Centre. Any accidents and any emergencies out of hours are not covered but all other treatment is.
If you think you may be able to give Thetis the new home she deserves please give The Centre a call Monday to Friday 9am-4pm. We can also explain the foster scheme in full detail.