Holborow Lodge, Chalder Lane, Sidlesham, W. Sussex PO20 7RJ
HULKY BEAR


Hello from your favourite out and about reporter at the Cat and Rabbit Rescue Centre, Hulky Bear.
This month we are having a quiz at The Centre. I was asked to be question master but I decided that having all the questions about me and how amazing I am might not be fair. So I am now just making sure that everyone knows about the quiz and hoping to see you there. It promises to be a great evening.
We hope you can make it, don't be shy I will make sure the questions are a real mix so everyone can join in.
Have you had a chance to look at our brand new shop in East Wittering? It has lots of lovely goods to sell. Come along and meet some of the team. We are very proud of our new shop. We are hop-ing for lots of new customers and to make some new friends.
At times we have cats brought into The Centre that have been used to living outside without much human contact. We always hope they will decide that they will trust us and become friendly, sometimes however the cats are much happier going to live in special homes where they can have lots of freedom. We recently had a lovely lady who owns lots of land who re-homed 2 of our cats. We had such a great update that the cats are enjoying their new life-style going in and out of their home and running and playing in the fields.
If you are interested in adopting a cat, kitten, rabbit or guinea pig then please call us here at the centre on 01243 641409 between 9-4pm during the week.
PS: We have a viewing day 25th May - 12-2pm. Viewing days are non-appointment days so people thinking of adopting a cat can pop along. Otherwise we rehome seven days a week by appointment only.
Pet of the Month - Hogarth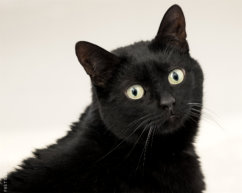 This month allow us to introduce Hogarth a handsome boy black in colour. He arrived at The Centre in 2013 his owner couldn't cope with him any longer. Since then he had been rehomed but unfortunately after 4 years he has been brought back because he can be a little naughty sometimes and his owners were expecting a baby, and he also did not like their dog. Hogarth is a sweet, lovely, cheeky boy, who does love having a fuss made of him, and he loves playing with toy mice. He has the coronavirus, which is very common among cats, and so will go on foster for this, the staff at The Centre can give you more information on what this means, but it doesn't bother him. He would be suited to a confident owner who doesn't mind his naughty side who has no young children, or other pets. If you think you may be able to give Hogarth the new home he deserves please give The Centre a call Monday to Friday 9am-4pm.