Holborow Lodge, Chalder Lane, Sidlesham, W. Sussex PO20 7RJ
Hulky Bear


Hello from your favourite out and about reporter at the Cat and Rabbit Rescue Centre, Hulky Bear.
With the nights getting lighter I decided to start spring cleaning at The Centre. Staff have been cleaning the windows and washing all the walls of the outside buildings. The windows are sparkling clean and not a cobweb in sight.
In our Out and Abouters room we took delivery of a new sofa for us to sleep on. It's very comfortable. Our old one was looking a little tired and this will make us look very smart. I must do some further testing on the sofa just to make sure of the comfort rating. I know I could delegate this task but I think I am the expert in this so I better keep it myself.
Take care until next time.
If you are interested in adopting a cat, kitten, rabbit or guinea pig then please call us here at the centre on 01243 641409 between 9-4pm during the week.
PS: We have a viewing day on 23th February and 23rd March from 12-2pm. Viewing days are non-appointment days so people thinking of adopting a cat can pop along; otherwise, we re-home seven days a week by appointment only.
PETS OF THE MONTH
Chasiu and Congee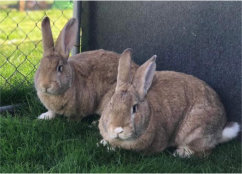 Let us to introduce Chasiu and Congee. They are brothers and only a year and a half old. They have been living at The Centre for a year now after their previous owner became too unwell to look after them. They are both very sweet and inquisitive bunnies although they would benefit from more handling. They are very close brothers spending most of their days sprawled out lying next to each other. They are large rabbits so their new home would need to have accommodation large enough to give them plenty of space. Full details of the type of accommodation needed are available on request from us here at The Centre. If you think you may be able to give Chasiu and Congee the new home they deserve please give The Centre a call Monday to Friday from 9am-4pm. We also have a pair of sisters from the same family as Chasiu and Congee who are also waiting to be adopted if you are interested in the two females.