Hulky Bear
Hello from your favourite out and about reporter at the Cat and Rabbit Rescue Centre, Hulky Bear.
I say this every year how fast time goes, where has the year gone. I am very busy at the moment rolling about playing in the fallen autumn leaves. It's so much fun. I am actually meant to be looking for some staff to sweep up but hopefully no one will notice just for a while.
I hope you can come along to our winter fayre on the 4th November. If you can you might see this year we are selling a Cat and Rabbit Rescue 2019 calendar. It has some stunning photos of some of my friends here at The Centre. If you would like a copy they are £6 each and will brighten up any wall, just ring 9-4pm during the week.
We have recently held a couple of special cat viewing evenings giving a chance for people to visit The Centre with a view to homing a cat. These are for people who haven't yet had a home visit and want to see what we do and to answer questions We had such a lot of support and so many of you came along. Lots of my friends found forever homes. Watch out for our evening dates shown on our website or on Facebook. If you have had your home visit then please call us and we can arrange your appointment during an afternoon seven days a week.
As the days get shorter and colder the staff are working on the winter accommodation for our rabbits and guinea-pigs. It is more sheltered away from the elements. It's meant all the summer accommodation has to be fully cleaned before we store them away in the new buildings for the winter. All the rabbits and guinea-pigs are happy being nice and warm. Let's keep our fingers crossed there is no snow
Our newly qualified Vet Nurse Sophie has been back working at The Centre for a couple of months now. We are keeping her busy looking after us. Anyone needing a health check forms a queue outside our vet room in the morning. What's a health check? I thought it was a queue for extra tickles. Quick I am out of here fast! I think I will go and have a lie down in our brand new colourful wheelbarrows kindly donated by Covers of Chichester, it is just the place to relax after a hard day's reporting. I don't think anyone will look for me there.
Take care and see you next time.
If you are interested in adopting a cat, kitten, rabbit or guinea pig then please call us here at the Centre on 01243 641409 between 9-4pm Monday to Friday.
PS: We have a Viewing Day 24th November 12-2pm. Viewing days are for people who have not had their home visit, but are thinking of adopting a cat, otherwise we re-home seven days a week by appointment only.
Pet of the Month Azrael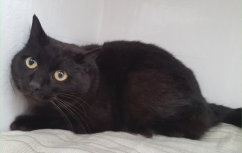 This month allow us to introduce Azrael a 6 year old black female cat. Azrael came to The Centre in March; she had been living outside in the garden as the other cat in the household did not like her. Being a very timid and nervous girl she wouldn't come inside. At the moment is finding life with us a little stressful, she hisses when you go into her pen. If you sit down and wait a few minutes Azrael calms down and lets you tickle her head. She does not like the rest of her being touched. Azrael loves company; when she hears the handlers or staff are coming into her pen she gets very excited and stands at the door waiting, her little face is a picture. She love you to sit and read to her she relaxes completely. We are looking for an experienced owner with no other pets who would be able to give Azrael the time and patience she needs to settle into a home. We think she would be happier living with no young children. If you think you may be able to give Azrael the new home she deserves please give The Centre a call Monday to Friday from 9am-4pm.