Holborow Lodge, Chalder Lane, Sidlesham, W. Sussex PO20 7RJ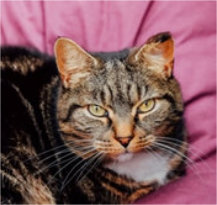 Hello from your favourite out and about reporter at the Cat and Rabbit Rescue Centre, Hulky Bear.
Our last pet of the month, the cat Everleigh, is still waiting to find her forever home.
A few months ago on our social media we were fundraising to buy some new accommodation for one of our longest staying pair of rabbits Mr Goodbar and Skybar. They were quite destructive rabbits and were known to chew through wooden accommodation and they liked to dig holes in the grass. We believe this is why they were often overlooked by potential adopters as they needed a different sort of accommodation that would keep them safe and they couldn't escape from. We fundraised for a metal type of rabbit run from a brand called Omlet that was escape proof. This would then also be available for their new adopter to take home with them. Thanks to our lovely supporters we were able to raise just under £500 to purchase this accommodation. We were able to buy the run and they loved it, only a few months later this lovely pair were finally able to find their forever home.
We recently received a lovely email from their new owner and this is what they said, "We have only had them for just over 2 weeks and are amazed at how loving they are. This is all thanks to the CRRC staff and volunteers who spent their time getting them so used to human contact. For my daughter, her wishing well wish has finally come true and it would not have been possible without the generosity of CRRC's supporters, providing us with a walk in run that she now spends her free time sitting in with her beloved bunnies! To those who donated, we thank you so very much!"
A very big thank you to everyone who donated to make it possible for these lovely rabbits to have their dream come true of finding their forever home.
Love Hulky
PET OF THE MONTH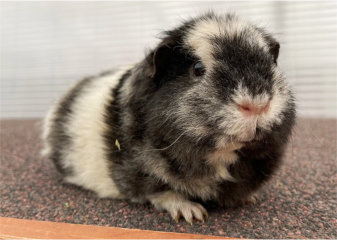 This month we would love to introduce you to a very handsome male guinea pig called Galaxy. Galaxy has been with us at The Centre since April 2022 after his previous owners were moving abroad. He has been here at for so long because he has suffered with some issues with his stools but now we have found the right environment and diet for him he is doing much better. As our vet is unsure whether his issue was something that could be spread to other animals it has been decided he would be best suited to a home where he is the only pet. Galaxy is just over a year old now and he would love to find an indoor home where he gets lots of attention from his humans. He is such a sweet little boy who loves human company and enjoys sitting on a lap.
If you think you may be able to offer Galaxy a loving home please give the centre a call on 01243 967111 or visit our website www.crrc.co.uk