Holborow Lodge, Chalder Lane, Sidlesham, W. Sussex PO20 7RJ
Hulky Bear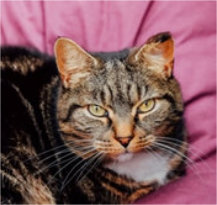 Hello from your favourite out and about reporter at the Cat and Rabbit Rescue Centre, Hulky Bear.
Sadly previous month's pets of the month Sweet Peanuts and Toffee Bonbon are still here and looking to find their forever home. A few weeks ago, the staff unfortunately found a lump on Sweet Peanuts which our vet is unable to operate on. However, he is still a happy boy at the moment and we are hoping he will be able to live out his days in a nice home soon.
I told you how we took in eighteen cats from a home where the owners had too many and couldn't cope. I just wanted to update you and let you know that The Centre did take in another five male cats from the home. However, I am happy to inform you that nearly all the cats have now been rehomed. This is except for our lovely soon to be mum cat Coco Bean who is due to have her kittens any day now. Over on our facebook page we are following Coco Beans journey through motherhood and my staff will update everyone when she has had her babies. If you would like to see how many kittens she has and to see how they grow please do follow us on our social media pages. We've been raising money to make some much needed improvements to our mum and baby unit that will help with ventilation in the unit and will keep all the mums and kittens healthy and happy before they go to their forever homes. Paws crossed we will have soon raised enough to make these changes.
We also recently took in another ten cats and seven rabbits who were being kept in horrible conditions. These animals were part of a large operation by another rescue and in total they rescued over 50 cats that were kept in cages in a cupboard. These cats did have a few ongoing medical conditions especially with their eyes and they are all a little nervous. Thankfully, they are all doing really well now and we hope to be able to rehome them soon.
PET OF THE MONTH PUGSLEY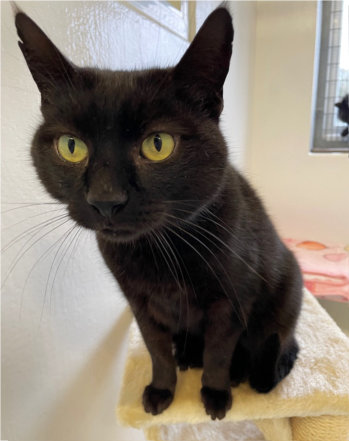 This month we would love to introduce you to Pugsley. Pugsley is a very handsome ten year old black male cat. He has been with us at the rescue since November as his owners were moving to a property that did not allow pets. He did originally live with cats but he was a bit mean to her so we had to make the decision to split them. Pugsley is a very confident and friendly boy who loves to have a fuss made of him. He will come straight up for a stroke and will be rubbing around your legs for lots of attention. He is also very playful but occasionally he can get a little bit carried away and can nip but he doesn't mean to be nasty. He also does not really like being pulled around and would be much better suited to a quiet home without any young children. Pugsley would also like to be the only pet in the household.
If you think you may be able to offer Pugsley a loving home please give the centre a call on 01243 967111 or visit our website www.crrc.co.uk