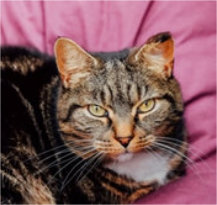 Hello from your favourite out and about reporter at the Cat and Rabbit Rescue Centre, Hulky Bear.
Last time I spoke to you, I told you about our pet of the month the rabbit Dairylea Dunker, well sadly, he is still waiting to find his forever home.
I am happy to update everyone on our recent Virtual Fayre. You may have seen that we were unable to hold our normal Summer Fayre at The Centre again this year. Which was of course hard for everyone as it is our biggest fundraising event of the year. Therefore, my staff decided to hold a virtual fayre online to try to raise some money for The Centre. The virtual fayre included a raffle, auction and photography contest. I am pleased to let everyone know that in total the virtual fayre raised £4418! My staff want to thank everyone who donated or joined in the competitions, this money will really help us to continue caring for the animals at The Centre.
I overheard my staff talking the other day about a sweet older female cat that had come into the rescue. This little cat had just come in and while one of the staff was adding her details on to our system, she then realised that this cat was actually rehomed from us many years ago. You see sadly this cat's owner had died and her son had brought the cat into us, he lived far away and did not know it was from us. The reason why I wanted to tell you this story is because I wanted everyone to know that most good rescue like us will always have back the animals that they rehomed to find him or her a new home. We do not like to think about passing away but I think it is important for a family to know that if you adopt a rescue cat it will always have somewhere to go. We were full at the time we were asked to take this cat which meant they went to the bottom of the waiting list but if we had known she was from us she would have skipped the queue and saved a lot of time.
See you next time
Love Hulky
P.S Please keep an eye on our website www.crrc.co.uk and our Facebook page for all the latest news and info regarding Rehoming and Centre Life.
HUBERT IS PET OF THE MONTH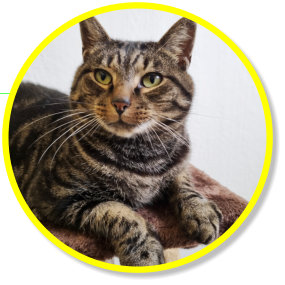 This time we would love to introduce you to the very handsome Hubert. Hubert is a 4 year old male cat who has been here at The Centre since March after he was found living as a stray. We do believe that Hubert must have had a home at some point as he is such a lovely boy who wants to be fussed.
Unfortunately, when Hubert arrived he was not in the best condition but after seeing our vets it was discovered that he has Kidney disease. He is on medication for this but is on our part foster care scheme, which means he can continue to see our vet here at The Centre.
He is such a lovely boy, occasionally he can come across at little shy at first, but really he just loves attention and sometimes even to be picked up and cuddled. Still a big kitten at heart he also loves to play with his toys. Hubert would be best suited to home without other pets but he could happily live with older children.
If you think you may be able to offer Hubert a loving home please give the centre a call on 01243 967111 or visit : www.crrc.co.uk