Hulky Bear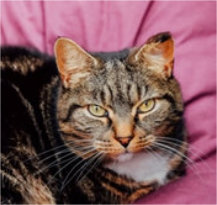 Hello from your favourite out and about reporter at the Cat and Rabbit Rescue Centre, Hulky Bear.
Firstly, I wanted to give you all an update on Lady Josie. You may remember when I told you about how our amazing supporters raised the £900 needed for her knee surgeries. Well I'm really pleased to tell you that she has now had her first surgery and is recovering well.
Lady Josie is standing and moving around which is a very good sign, our Chichester vets said she was a super star through the whole operation. She will likely still need another surgery on her back right leg but so far everything is going really well.
Did you know that April is National Pet Month! National Pet month is there to help everyone to celebrate pet ownership and the many benefits that come from owning pets. But it also raises awareness of responsible pet ownership. We love everything this stands for and especially during this last year when we have all been stuck at home. We know how important having a pet can be for some people and we would love to hear your stories of pet ownership too. If you would like to get involved with national pet month have a look at our Facebook page for lots of fun posts. You could even visit www.nationalpetmonth.org to get involved. I personally love national pet month, but of course why wouldn't I love a month to celebrate me, and all my other rescue friends too.
But I feel it is important to say that pets should bring happiness and love to your life. If you feel you can no longer give your cat, rabbit or guinea pig the loving home they all deserve then please do get in touch as we will try our best to help.
PET OF THE MONTH
Zion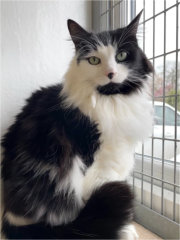 This month we would love to introduce you to Zion. Zion is 5-year-old neutered male cat who has been living here at The Centre since the beginning of March. He arrived here because he was quite nervous and this made it hard for his owners to keep on top of his grooming. They also felt that he was probably overwhelmed and not settled in the home as he was not happy living with other pets and children. Zion can be a really sweet boy who loves to have a fuss made of him, but because of his anxiety it can sometimes take him a bit of time to trust someone new. He is looking to find a new loving home where he is the only pet and there are no young children. We feel he will also need a quiet home with owners that are around a lot to help him come out of his shell. With lots of love and trust we are sure Zion will blossom into the loving confident cat we know he is. Zion is also quite a fluffy boy so his new owners will need to be able to keep on top of his grooming.
If you think you may be able to offer Zion a loving home please give the centre a call on 01243 641409 or visit our website www.crrc.co.uk