Holborow Lodge, Chalder Lane, Sidlesham, W. Sussex PO20 7RJ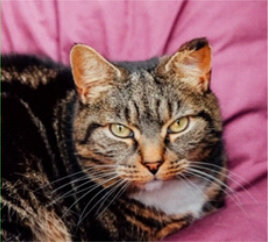 HULKY BEAR
Hello from your favourite out and about reporter at the Cat and Rabbit Rescue Centre, Hulky Bear.
Just to let you all know that last month's pet of the month McCarthy is still at The Centre patiently waiting for his forever home.
I hope you all had a lovely Christmas and New year's and you were able to enjoy some time with your loved ones. Christmas was a lot quieter for us at The Centre as unfortunately we were unable to have any volunteers to help us this year. Usually we would have many of our lovely supporters giving up their time to help us on Christmas Day and Boxing Day looking after the animals. We all missed having them here and I especially missed my extra cuddles and treats. However, of course my staff made sure I was treated like the prince I am. I am so impressed with my staff and the dedication they have shown to The Centre this year, I wish I could give them a treat but of course they do get to tickle my belly and you have to be special for me to let you do that.
A few months ago, a man brought a male guinea pig into us after he lost his job due to COVID and could no longer afford to look after him. Thankfully, we had the space to take him as when the staff got him out of his box they realised he had a lump the size of a tennis ball on his face. Poor little piggy he must have been so uncomfortable dragging that around. They took him down to our vet practice in Oving as soon as it opened on the Monday morning. My staff were so worried thinking it may have been a tumour or something nasty but it ended up just being an abscess. The vets were able to cut it open and remove most of it, the wound was flushed regularly over the next couple of weeks and happily, it cleared up really well. I just wanted to share this little happy story with you, this little piggie has now been bonded with another piggie and is living his best life not having to drag that lump around with him.
Love Hulky
PETS OF THE MONTH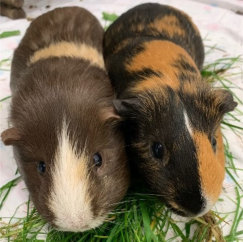 Happy Cherries & Fizzy Peach
The Cat and Rabbit Rescue Centre would love to introduce you to a pair of gorgeous male guinea pigs. Happy Cherries and Fizzy Peach have been with us at The Centre since October after their owners had a change in circumstances and could no longer look after them. These two are 5 year old brothers and would be looking to find a new loving home together as they get on so well. They are a lovely pair of guinea pigs that enjoy running around their pen and eating lots of grass. Fizzy Peach does have a small lump in his armpit that the vet is not too concerned with, so he will be on the part foster care scheme so that if anything changes with it in the future he can come back and see our vet at no cost to his owners. Happy Cherries and Fizzy Peach have lived indoors their whole life so it would be best for them to continue to live indoors as they are not used to the cold temperatures. These friendly boys really deserve to find their forever homes, they are getting on a little bit now but they would still love to settle down in a loving home with lots of cuddles and food! If you think you may be able to offer Happy Cherries and Fizzy Peach a loving home please give the centre a call on 01243 641409 or visit our website www.crrc.co.uk
P.S Please keep an eye on our website www.crrc.co.uk and our Facebook page for all the latest news and info regarding Re-homing and Centre Life.