Holborow Lodge, Chalder Lane, Sidlesham, W. Sussex PO20 7RJ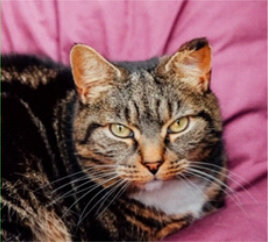 Hulky Bear
Hello from your favourite out and about reporter at the Cat and Rabbit Rescue Centre, Hulky Bear.
I wanted to start off with some lovely news that last month's pet of the month Ella Bella has now been re-homed. Also I would personally like to say a big thank you to everyone that got involved with our Virtual Fayre and helped to raise much needed funds for the centre.
When the centre first re-opened after lockdown my staff were so busy re-homing animals, some were barely with us for a week before they had a potential adopter looking at them. It was amazing to see all the cats, rabbits and guinea pigs go off to their forever homes. But all these re-homing's mean that we currently have less animals at the centre. Don't get me wrong we still have well over 100 animals here to keep my staff busy but unusually we actually also have space to take animals in. So really I just wanted to let my readers know that if you do find yourself in a position where you need to re-home your cats, rabbits or guinea pigs then please do give the centre a call.
Although this year has been difficult it has also made us appreciate our supporters even more. I wanted to mention a couple of my lovely volunteers who although can't come to the centre at the moment to give me kisses they still warm my insides. Vanessa, Christine, Sara and Kimberley have been raising money for the centre through selling face masks, last month they reached £1000 raised! Also our lovely volunteer Eve had her husband Chris brave the shave and shaved off all his hair to raise an amazing £564.65 for the centre! Thank you all so much, as well as everyone that has continued to support us through these difficult times. Love you all!
Love, Hulky
P.S. Please keep an eye on our website www.crrc.co.uk and our Facebook page for all the latest news and info regarding Re-homing and Centre Life.
PETS OF THE MONTH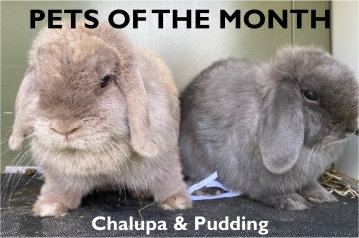 Please allow us to introduce you to Chalupa and Pudding. Chalupa is a light grey spayed female rabbit who arrived with us at the Centre in February 2020 as her previous owners were struggling to bond her with their own rabbit. But not long after she arrived she gave birth to her daughter Pudding who is also grey but a bit darker. Pudding is now 6 months old and Chalupa is two years old. They get on really well and Pudding is like Chalupa's mini-me, we would only want these two to be rehomed together. They are both friendly rabbits who do enjoy having a stroke but like most rabbits they are not very keen on being picked up. Chalupa can sometimes be a little bit cheeky and nibble at your ankles but she's not being nasty. We think these two would be happy in a home with older or no children only. If you think you may be able to give Chalupa and Pudding the new home they deserve, please send us an email or give The Centre a call Monday to Friday 9am-12pm.