HULKY BEAR


Hello from your favourite out and about reporter at the Cat and Rabbit Rescue Centre, Hulky Bear.
So we are in phase three of re-opening our rehoming and it's been going amazing! My staff are so busy right now, replying to emails, making phone calls and booking people in to meet their chosen animals (as well as looking after all the animals of course). Phew.. there's hardly enough time to make sure I'm getting all my strokes, oh well at least I know I can always get some loving on their lunch break. In phase three we are asking people who may be interested in adopting to check out our website and if they see a cat they like then to contact us about that cat. It's going so well that some animals especially the cats are barely on the website a day before they've got someone booking in to meet them.
Recently at the centre we held our photography contest for the second year running and it was just as successful. Although we were not able to have it judged at our summer fayre like last year we still got our president Susan Jameson and her Husband James to judge it from home. Obviously I would have won it if someone had entered a photo of me but I'm just so good looking that they didn't let me enter, so instead I helped to choose the final eighteen that were sent to Susan. We didn't ask for a specific entry fee but we did ask if you could make an entry fee donation, however small it would really help us through this difficult time. Of course our lovely supporters came through and we raised an amazing £448 for the centre. The winner will be receiving an amazing drawing of their photo by Penny Kirk Pet Portraits. If you would like to see the winner, the finalists and to see what Susan Jameson thought of each photo please do check out our website (www.crrc.co.uk//photography-contest-results/).
Thank you so much everyone for getting involved with us again. Love, Hulky
Keep an eye on our website www.crrc.co.uk and our Facebook page for all the latest news and info regarding Rehoming and Centre Life.
PET OF THE MONTH JONAS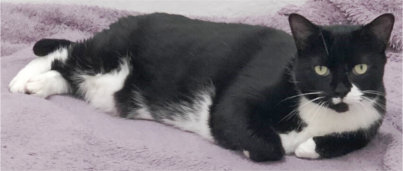 This month please allow us to introduce you to Jonas. Jonas is a 9-year-old black and white neutered male cat. He has been living here at the centre since December 2019 as his owner had become ill and they were struggling, also he didn't really get on well with the other cat. Jonas is a very scared and frightened little cat who really needs to find a very special home that suits his needs. While he did live in a home he was often on his own as his owner was in and out of hospital and we don't think he has ever really had the chance to go outside, to be honest we don't think he has ever had much human interaction. Jonas will usually hiss and spit when you go near him and is really not keen on being touched. He really needs to find a very patient and caring owner who possibly has experience of nervous cats and will be able to give him the time he needs. We're not sure how Jonas will settle into a home but we hope he might be happier than being here, his new owner will need to be very patient with him as we think it would take him a bit of time to settle in. Jonas is looking for a home without other animals and no children. After being kept in a room for most of his life this handsome boy really needs to finally be given the chance to live his life, to be happy, free and to just be a cat.
If you think you may be able to give Jonas the new home he deserves, please give The Centre a call Monday to Friday 9am-4pm.