Hulky Bear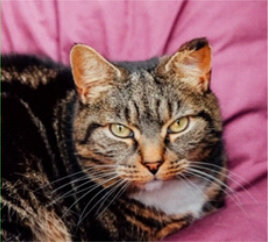 Hello from your favourite out and about reporter at the Cat and Rabbit Rescue Centre, Hulky Bear.
It's been a bit of a sad time here for us out and abouter's the past couple of weeks as sadly we had to say goodbye to our good friend Mooma (Katrina). Mooma was the queen of us resident cats, she was 20 years old and had lived here at The Centre for about 19 years!! We all got along great with her, snuggling up together on the sofa in our rooms and all coming and begging the staff for some chicken at the front doors of the Viv Eadon building. My good pal Axyl will really miss her lots as they were a couple of lovebirds those two! He followed her everywhere and they were regularly caught head bumping each other or rubbing alongside each other. My staff are missing her greatly too, they say she used to make them laugh with her sassy nature and her sweet little meow. We hope she rests in peace now along with all our other former friends we've said goodbye to over the years.
In other news here at The Centre though, my staff are busy preparing the place ready to start rehoming again! They are making sure that all social distancing measures are put in place and that they've got their protective equipment at hand. I'm not going to lie, some of them do look a little silly with their masks on, but apparently it's a safety thing and not a fashion statement I'm told!! It will be nice to start getting the animals out here as it's been a little stressful for them and some of them have started to get a little sad my staff have said, so fingers crossed as soon as we can start up again, they will all find their forever homes very quickly.
Love Hulky
Keep an eye on our website www.crrc.co.uk and our Facebook page for all the latest news and info regarding Rehoming and Centre Life.