Hello from your favourite out and about reporter at the Cat and Rabbit Rescue Centre, Hulky Bear.
So 2020 is now well underway and I am happy to finally bring you our rehoming figures from last year. So in 2019 the centre took in 726 cats and kittens, can you believe that's even more than 2018 when we took in 694. Of course you all know I'm very smart but I still find myself wondering why the number of cats we help keeps rising every year. When I spoke to one of my staff who works in the mum and baby unit she told me another interesting figure. In 2018 we had 215 kittens come through the centre, this year it was 266!! This shows that a lot of the increase is from kittens which means that people are still not getting their cats neutered and that makes me very sad. But happily we did rehome 675 cats and kittens last year, although this is just slightly down on 2018 when rehomed 694 but slightly more than 2017 when 651 cats and kittens found homes.
Now let me tell you about the rabbits and guinea pigs. Last year we took in 84 rabbits and rehomed 86 compared to 2018 where we took in 119 rabbits and rehomed 103. We did have a couple of things going on with the rabbits last year which meant we did have to keep rabbits here longer than usual, this resulted in us not having the space to take in as many. This is probably why we took in and re-homed less rabbits last year. But we did help more guinea pigs than 2018, as we took in 97 and rehomed 98, and in 2018 we took in 84 and rehomed 90 guinea pigs.
I hope you find these figures as interesting as I do, I do like my readers to know how things are going at the Centre. Overall we did see an increase in the amount of animals that needed our help. But I'm just so pleased for the 675 cats, 86 rabbits and 98 guinea pigs that found their forever home last year, I hope they're all as happy as I am in my home here at the centre.
Hope to speak to you soon
Love Hulky
If you are interested in adopting a cat, kitten, rabbit or guinea pig then please call us here at the centre on 01243 641409 between 9-4pm during the week.
PS: We have a viewing day on the 22nd February 2020 12-2pm. View-ing days are non-appointment days so people thinking of adopting a cat can pop along. Otherwise we rehome 7 days a week by appoint-ment only.
PETS OF THE MONTH
Berry, Brownie and Toffee Cheesecake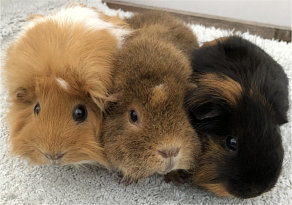 This month allow us to introduce you to three gorgeous female guinea pigs Berry, Brownie and Toffee Cheesecake. These little old lady piggies have been with us at The Centre since the 17th October because their owner didn't have space to bring them inside for the winter and was worried about them getting cold outside. They are all 5 years old and looking to find their forever home together as they love each other. They are all really sweet and friendly guinea pigs who enjoy being stroked and they will happily sit on your lap for their cuddles. They also all really love their food and will squeak lots when they see you coming with their vegetables. Due to their age there is a couple of health issues with these girls that their new owners will need to be aware of. Toffee cheesecake who is the brown one has a clean bill of health and Berry Cheesecake who is the ginger and white had a clitoral stone which she had removed and has now recovered well from. Brownie cheesecake who's black and tan unfortunately has a tumour next to her front leg, which due to her age would be too risky to operate on. This may mean she has a limited life but at the moment she's happy and it doesn't bother her. If there were any problems with her tumour in the future Brownie would be under foster for it which means she can come back to see the vet here at the centre. These three lovely girlies really deserve to find a new family and a loving retirement home together.
If you think you may be able to give Berry, Brownie and Toffee Cheesecake the new home they deserve, please give The Centre a call Monday to Friday 9am-4pm.
THE CAT & RABBIT RESCUE CENTRE
Holborow Lodge, Chalder Lane, Sidlesham, W. Sussex PO20 7RJ
Tel: 01243 641409
Email: info@crrc.co.uk
www.crrc.co.uk
Also find us on facebook www.facebook.com/catandrabbitrescuecentre