Hulky Bear
Good day from your favourite out and about reporter at the Cat and Rabbit Rescue Centre, Hulky Bear.
I hope you all have had a fantastic Easter break. We have had lots of new rabbits and guinea pigs arrive at The Centre over the last few months. I thought to help them feel more at home I would arrange a little welcome party for them. I decided on a sort of Easter Egg Hunt but instead of eggs I used extra vegetables we have been kindly donated and hay bundles that our kind volunteers have been making up as parcels. I hid them all around their pens and they had great time hunting for them. I like to welcome all the new arrivals and make sure everyone is happy.
I had a thought if you are going away for your holidays any time soon we would love to hear from you.
If you get time please send me a postcard and let me know where you are. I can make a collection that my friends and I can look at.
Some sad news one of my out and about friends Michael passed away recently. He spent most of his time running our barn checking everything was running well. He was loved by us all at The Centre and he will be very much missed by us all.
Some happier news we have a new arrival of the human kind at The Centre. Our new manager Dave joined the team. I of course made sure he had a great Hulky Bear of a welcome.
Take care and see you next month  
If you are interested in adopting a cat, kitten, rabbit or guinea pig then please call us here at the centre on 01243 641409 between 9-4pm during the week.
PS: We have a Viewing Day Saturday 28th April 12-2pm. Viewing days are non-appointment days so people thinking of adopting a cat can pop along.  Otherwise we re-home 7 days a week by appointment only.
Pet of the month - Iru Bru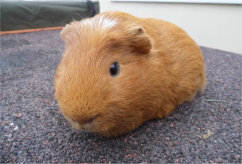 This month allow us to introduce you to Iru Bru, an 11 month old male, ginger and white guinea pig. He arrived at the centre with his brother after his original owner became ill. Unfortunately Iru Bru did not get on with his brother and he had to be re-homed separately so Iru Bru is now looking for a new home with a new male guinea pig. He is happy to be handled and enjoys the company of the staff. We would love to find him a new friend. We can arrange bonding of your male at the centre.  If you think you may be able to give Iru Bru the new home he deserves please give The Centre a call. We can then explain the bonding procedure with you.