Havant U3A are pleased to bring to you this profile of Carol Young, one of our members who over the last three years has been combining distance running with raising funds in support of the 'Sense' Charity. Carol has been very successful in her endeavors, both in increasing the distance she runs and the money she has raised. So our members were delighted to hear in her own words (below) more about this committed individual.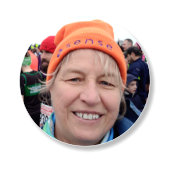 "I am a retired Vet living in Rowlands Castle and started running at 61. I have always enjoyed a challenge and seeing a friend run the London Marathon made me think I might do the same.
I applied to run in 2017 but didn't get through the ballot. But, did get a place in the Brighton Marathon. I gradually increased my fitness building up to and completing four half marathons and the Brighton marathon – taking seven hours for the latter.
I applied early to several charities, all of them involved in supporting those with mental health issues and in the case of my chosen charity Sense problems arising from isolation and exclusion.
In May 2018 Sense offered me a place and so I continued training and fundraising. This included cake and car boot sales, donations, and a Quiz and Chili night complete with a Grand Raffle. I am delighted to run for Sense it is a small charity but very much a worthwhile one.

I particularly like the idea of people perhaps leading closed isolated lives because of conditions such as Autism Blindness and Deafness being supported to interact with others and flourish.
My training continues, the weather is tough, I'm tired and my feet are sore. Over the next few weeks I aim to have completed a half marathon and two shorter runs. Hopefully all taking me to the start Line in London on April 28th.
Thank you everyone for supporting me and my fabulous charity Sense.
NB: Sense is a charity providing support for anyone living with complex disabilities including those who are deafblind. The charity offers personalised support through centres, holidays and short breaks, or in peoples' own homes to everyone regardless of age.