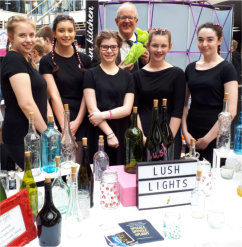 April saw the fifth successive year of the Business Enterprise Challenge visiting the Meridian Shopping Centre in Havant, where young teams of business entrepreneurs from schools across the area displayed and sold their products in the annual competition that aims to develop young entrepreneurs confidence and team working abilities along with encouraging Individuals own initiatives, innovation, leadership and business acumen skills throughout the year supported by adult mentors.
All monies raised by the teams at the end of the year are to be donated to Faith & Football which supports orphanages around the world. Best of all, the team judged independently at the end of the year to have shown the greatest level of skills in all these and other key areas, win the opportunity to go and visit the orphanage supported in Goa, India. What a Fantastic Prize!
Steve Rolls from Faith & Football is photographed with the Centres "Team of The Day" winners the ladies from "Lush Lights" lushLights@outlook.com who each won a £10 W H Smith Voucher - well done for a Great Teamwork, Product & Stall Display. The product also showed good up-cycling and strong profit potential based on their original outlay.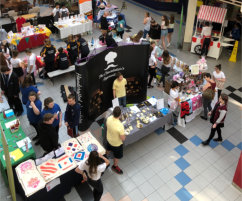 By
Rob Fryer, Meridian Centre Manager