It's now eight years since Maurice Broomfield, an outstanding industrial photographer died and, as a fitting way of keeping his memory alive an annual competition for pupils in primary schools in and around Emsworth was set up. Suzy, his wife, was particularly pleased about it and helped to get it going in the early years. Latterly, her health gradually deteriorated and, on the penultimate day of 2017, she slipped quietly way. The work she did in the early days established that there was a need for such a competition.
The number of schools, the number of years in each school, numbers of photographs submitted by each pupil, all built up. This year was the 7th. Now that both Maurice and Suzy are no longer with us, it was felt the competition should be a memorial to both, which is reflected in the change of title to 'The Broomfield Schools Photographic Competition'.
We are fortunate to have a group of their old friends who are experts in photography for judging and, sponsoring th competition, the Slipper Mill Pond Preservation Association (SMPPA).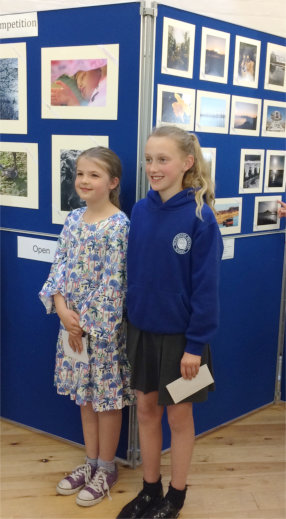 Winners are chosen from each School Year, the best of which are the overall winners, and get the top prizes in both an "open" category and one which involves Chichester Harbour and local wildlife. Those who enter really good photos but miss out on the prizes are awarded a 'Certificate of Merit'.
The competition is supported by various groups; the Emsworth Community Association, who provide the venue for the prize giving, the Southern Co-Op who provide refreshments, the Emsworth Arts Trail who help to publicise it and, of course, the SMPPA.
The pictures can be seen over the Bank Holiday weekend and, later, year group winners can be seen in the Emsworth Co-op where people can study them while waiting to pay their bills!
Nick Broomfield, Maurice's son was not able to join us this year (he lives in California). Jeff Thatcher (Chair of Judges) and Gill Thatcher did the honours. The atmosphere was happy and we learnt something about how a young photographer should be developing to become an expert.
To obtain copies of the entries and of the photographers themselves, contact: photos@smppa.org.uk
Prize Winners
Chichester Harbour
Year 3 and Overall Winner of Chichester Harbour subject
"Skating on Thin Ice" Isaac Forster St James
Year 4 "Cloud Five" Lilly Booth Thorney Island
Year 5 "Miniature Sea World" George Emery-Oiller Emsworth
Emsworth
Year 6 "Jetty" Evie Joyce Thorney Island
Merits:
Year 3 "Time for a Dip" Isaac Forster St James
"Eye to I" Quiola Arthur Emsworth
Year 4 "Double Dip" Lilly Booth Thorney Island
Year 5 "Tide is out" Harry Morrison Emsworth
Year 6 "Fluffy Egret" Alexander Barker Southbourne
Southbourne
"Swans" Henry Reeves Funtington
"Follow the Swan" Kaydance Booth Thorney Island
Open Competition Winners:
Year 3 "Webbed Feet" Ethan Judges Funtington
Year 4 "Please" Hester Robinson Funtington
Year 5 "Icicle Tree" George Emery-Oiller Emsworth
Year 6 and Overall Winner of the Open Subject
"Under the Covers" Hazel Morgan Funtington
Merits:
Year 3 "Magical Steps" Quiola Arthur Emsworth
Year 4 "What are you Doing?" Hester Robinson Funtington
Funtington
Year 5 "Sun in the Ice" Amelie Plum St James
"Reflections of Winter" George Emery-Oiller Emsworth
Emsworth
Year 6 "Widget 111" Alexander Barker Southbourne
Southbourne
"St Michael's Mount" vie Joyce Thorney Island
"Emsworth through the Hazel Morgan
Funtington
"Reeds"
Schools Prizes:
St James Primary School and Funtington Primary School