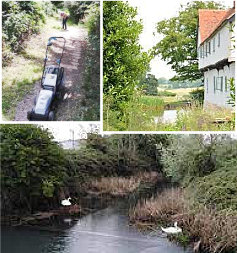 Friends of Brockhampton Millstream is a small conservation group set up five years ago to improve access and the environment of the Solent Way footpath that commences at the top of Harts Farm Way, Havant under a five-year license from Havant Borough Council. The Friends began to meet regularly and have worked to greatly improve access, tidiness and general environment of this special section of the long distance path.
The present width of the path has enabled vehicular access for maintenance purposes for Southern Water and the Scottish & South East Electricity sub-station and also the pollarding of willow trees along the bank.
A spokesperson said, "Similar work had obviously been done in past years as we discovered three wooden benches on brick plinths when clearing the site of an overgrowth of brambles etc. and with the help of Havant Men's Shed and Norse these were replenished with new and safe seating."
The group have announced that they are unable to continue their important conservation work following expiry of their license although they hope that the area will continue to be maintained for the benefit of the community, for walkers, cyclists and runners either by the authorities responsible for this amenity or volunteers from the commercial sector that surrounds the area."
If you are interested in starting or joining a new group to continue this good work then please us know at: editor@postcodepublications.com and we will endeavour to connect you.