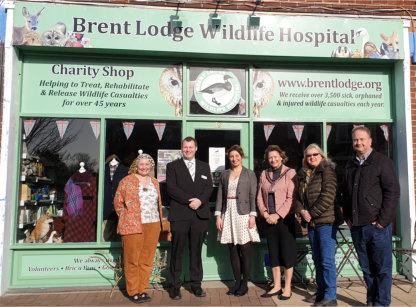 Brent Lodge Wildlife Hospital based in Sidlesham near Chichester provides life-saving care and rehabilitation facilities to over 3,500 wildlife casualties a year, with the aim to release fit and healthy animals back into the wild. One of their biggest regular income sources is via their charity shops, so they're delighted to announce the opening of their latest charity shop in Mengham Road, Hayling Island.
"We regularly receive wildlife patients from Hayling Island so we are honoured to be moving to the area to engage more with the local community, be a point of contact for any wildlife questions and help generate extra funds for the charity ensuring it is able to continue its great work. We're really hoping that as a local charity, we'll gain new support and encourage new people to shop with us and raise awareness about our cause.
We're truly blessed to have a hard-working and dedicated team of staff and volunteers who have helped get the shop open. We have been open only a few weeks and already we have had lots of happy customers buying goods and returning. The shop will continue to need lots of good quality items to stock the shelves with, as well as volunteers to help with sorting stock and serve customers, so if anyone is planning on having a clear-out or looking to volunteer for a worthy cause then please drop by to visit and say hello to our friendly team."
Patients at the wildlife hospital are constantly changing and they are now coming through the busy hedgehog care season. Once healthy and up to a good weight, they will gradually pre-pare to release hundreds of these over-wintered hedgehogs back into suitable local habitats.

The freed-up space will be needed to house the impending seasonal influx of thousands of injured or orphaned birds and mammals. The animal care team is anticipating that the mild winter will lead to an earlier breeding season and expect their first orphaned casualties to arrive at the hospital over the next few weeks. The transition from caring mainly for hedge-hogs to hundreds of baby birds and other wildlife casualties mean an increase in staff hours, a deep clean of the hospital, different patient foods, medicines, equipment and a change in patient care routines.
Young wildlife need to be warm and secure, without their mothers to brood them they are kept in incubators and creches which have heated plates to sleep and hide under. When big enough they move outside to grow and develop their natural behaviour where birds can bathe, preen and water-proof feathers and mammals have space to rest and recuperate prior to being released back into local habitats.
For further information about Brent Lodge Wildlife Hospital and the work they do visit www.brentlodge.org T: 01243 641672 E: enquiries@brentlodge.org