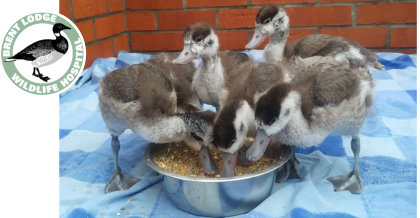 As the year starts to pick up pace the spring days turn into warmer summer days – bringing a noticeable increase of wildlife activity. Many species are adapting to a warmer climate and try to keep pace with the changes and timings of life cycle events. They are experiencing extended periods of breeding or nesting and migration triggers which can take its toll on many wildlife parents. The wildlife hospital in Sidlesham, West Sussex remains open to take in wildlife casualty admissions as the seasonal sick, injured or orphaned wildlife casualties continue to keep the animal care staff busy.
This young brood of shelducks were sadly left abandoned when their mum never returned. They are doing well and have moved out of the incubators to one of our outside enclosures. Wildlife mothers can easily be spooked if they feel threatened, it is best to leave mother and ducklings alone if they are finding their way to water, because interference can cause extra stress and risk the mother panicking and abandoning her brood. In many instances keeping an eye from a safe distance and shepherding the family across a danger point, such as a busy road, is all that is needed.
We are also really pleased to announce the reopening of our charity shops including the shops located in Mengham Road, Hayling Island and West Street, Havant. Plenty of quality goods for sale including books, clothes, bric-a-brac, accessories and furniture. Donations of goods are most welcome but please do give us a call before arriving Havant T: 02392 178 536 or Hayling Island T: 01243 605 125
If you do find a wildlife casualty please always call us 01243 641672 ext 1 before touching any wild animal, you could be doing more harm than good. We are more than happy to help. Please visit www.brentlodge.org for further information about helping wildlife or how to support our work. Brent Lodge Wildlife Hospital, Cow Lane, Sidlesham, PO20 7LN
AVIVA COMMUNITY CARE FUND APPEAL
Help us give a second chance to vulnerable wildlife casualties this summer. Young wildlife need to be warm and secure, without their mothers to care for them they are kept in incubators and creches. When strong enough they move to an outside enclosure where they grow and develop their natural behaviour prior to their release. Please go www.brentlodge.org/appeal if you would like to make a donation.