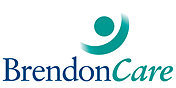 Hampshire-based charity, The Brendoncare Foundation, welcomed the charity's Patron HRH The Countess of Wessex GCVO to its Brendoncare Community Club Havant virtual meeting on Wednesday 20 January. The Countess was also celebrating her 56th birthday on that day.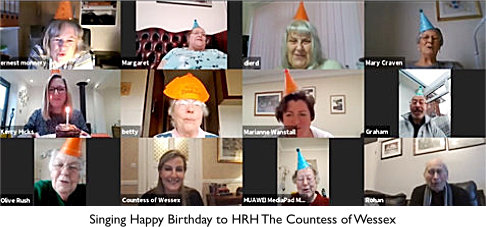 The Countess was welcomed to the virtual meeting by Marianne Wanstall, Brendoncare's Chief Executive. There were nine members of the club, together with Kerry Hicks, Brendoncare Locality Manager, in the meeting. The Countess chatted with all the members of the Community Club Havant.
The members were very enthusiastic about the club and Pat Bickers, Club member said, "It was lovely to see The Countess of Wessex on our virtual club meeting. At first we were a little nervous but she is so warm and friendly that our nerves soon disappeared.
"I found Brendoncare 7½ years ago after losing my husband, I was absolutely lost. Brendoncare made me so welcome and at home. They have been a lifeline. And now they have loaned me this device so I can see my friends. Brendoncare is a wonderful organisation, I can't praise them enough."
And Paul Bishop, also a member of the club, said, "A heartfelt thank you to Brendoncare. The tablet is a great boost for me so I can keep in contact with my friends during this difficult time. I really enjoy my weekly virtual meetings. We sometimes have a quiz but we always have time for a good old natter, whilst enjoying coffee and cake!"
During the meeting, there was a rendition of 'Happy Birthday' for The Countess who celebrated her 56th birthday. The members wore party hats and there was even a birthday cake for The Countess to virtually blow out the candles! They all enjoyed a quiz which was themed around events during the year The Countess was born, 1965. Club member Margaret Selby was the proud winner of the quiz!
The Countess commented, "We have to be so thankful for the technology we have that has allowed us to stay in contact.
"Brendoncare Clubs have been so beneficial, now more than ever. Thank you Brendoncare for getting the devices out to members who need them.
"Thank you so much for having me, I have really enjoyed myself, you've brought such a smile to my face. I hope to be able to come down to Havant one day to meet you all in person."
Marianne Wanstall, Chief Executive of Brendoncare, said "We were absolutely delighted to welcome Our Patron HRH The Countess of Wessex to our virtual club meeting. There was a lot of laughter, silliness and a few tears; it all brought everything to life and reflected the reality of our clubs and their importance in how everyone supports each other.
"We are so grateful for the time and support The Countess continues to give to Brendoncare."
Brendoncare Clubs brings joy and friendship to 1,500 older people through its network of over 90 clubs across Hampshire and Dorset, thus preventing loneliness and isolation. The clubs have been temporarily closed since March 2020 and with many members living alone, Brendoncare has been helping to maintain the positive connections and friendships they enjoy through their regular clubs. Volunteers have made over 13,000 contacts to members, as part of the community support service. There have also been 238 virtual club meetings and 59 digital connection sessions.
To learn more about Brendoncare Clubs please call 01962 857099, clubs@brendoncare.org.uk, www.brendoncare.org.uk/clubs