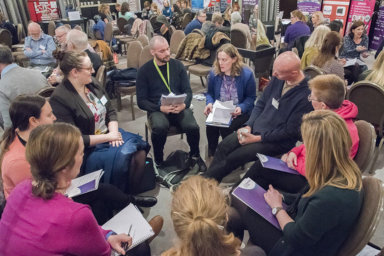 Business support for charities goes a lot further than corporate sponsorship, as charity and business staff discovered 14th March at Community First's Building Perfect Partnerships event supported by Winchester City Council. Over 80 delegates from charities, not-for-profits, social enterprises, and businesses in and around Winchester District attended to explore the untapped potential of turning to each other.
Well-being coach Caroline D'Ay shared her insights into how employee well-being and workforce motivation go hand in hand. This provided food for thought for both charities and businesses, as the event went on to consider the team building benefits of partnership working. International motivational speaker and business coach Ian Dickson imparted more hidden advantages to be found in charity-business relationships. During this segment, audience members were invited to retrieve tips and insights concealed inside bags of chocolate buttons. Ian identified mutual benefits including expanded networks, an uplift in referrals, and marketing together.
CEO of homelessness charity Trinity Winchester, Sue McKenna, and Linda Stiles, Sales and Marketing Manager at telecoms company ElemenTel, were interviewed together on stage. Sue McKenna's advice to charities was "Don't be afraid to ask" for the specific support they need. She also shared some important tips on helping businesses to feel connected to charitable causes. Trinity's presentation showed businesses offering voluntary practical support to the charity during a day event that lifted the volunteers' spirits and provided a space to meet new contacts. Linda Stiles spoke about the business advantages of working with charities, including brand development and team building opportunities. She also recalled her positive experience attending Community First's business volunteer away day: "We won our battle with the brambles", she said, reflecting on the unique opportunity to network while tackling a shared challenge.
Towards the end of the event, delegates split into groups to discuss how to make the most of partnership working from charity and business perspectives. A key takeaway was that charities should be specific about what goals and projects they need support with, and about the impact that business support will have for their beneficiaries. There are many occasions when asking businesses to share their skills and expertise can be more effective for charities than seeking funding, as emphasised by Community First's CEO Tim Houghton during the event's introductions. The event received positive feedback from charities attending. Lucy Tennant, Corporate and Community Fundraising Officer at Brendoncare, commented, "The Building Perfect Partnerships event was a great opportunity to network with local businesses and charities, and enjoy valuable talks and presentations too. Thanks to Community First for hosting such a wonderful event - we had a lot of fun!"
Further suggestions included businesses helping charities as part of training and upskilling programmes. Business owner and Coach Karen Murray said, "Long term partnership with charities goes beyond your Corporate Social Responsibility. It brings life to your values and enables your actions to match your words with true integrity. I've really enjoyed meeting other businesses and charities - it's been a great networking opportunity."
If you would like to engage your business with a charity, or you are seeking business support for your charitable organisation, you can find out how to get started by contacting Janet Duggan, Community First's Business & Volunteering Engagement Manager: janet.duggan@cfirst.org.uk or Rachel Taylor, Business Volunteer Co-ordinator: rachel.taylor@cfirst.org.uk.