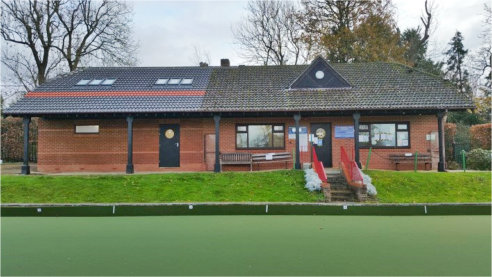 IT IS FINISHED - well on the outside!
Waterlooville Bowling club has been busy extending and improving the facilities. The builders have done an amazing job against all the odds of weather, Covid restrictions and shortage of supplies. But it is finished and it looks great. Inside it is much more spacious with a large upstairs meeting room! This will be suitable not just for meetings but also events like Pilates or yoga, yes it is that spacious!
The locker rooms downstairs are much bigger and the toilet facilities now up to modern day standards, including the disabled toilet. It is looking so much brighter as the members have been busy painting and finishing off inside. Well actually three members as with Covid restrictions it was felt only 3 could do it to ensure that it was Covid secure - distancing and ventilation. Many members offered their help but it was not felt wise to allow them in. The carpet has been laid and the blue really adds to the freshness of the surroundings.
We must thank Havant Borough Council, Hampshire County Council and Sport England for their Grant Contributions, totalling £135K which enabled this modernisation of facilities.
To date not many members have seen the inside of the building but it is hoped they will soon when once again the club can open. At the moment it is closed as it was felt unsafe for it to remain open in view of the restrictions in place. Safety of members is always at the forefront of everyone's minds. It is hoped to have a formal opening in the spring but quite when that will be will depend on the pandemic.
At least members did get to play for a few weeks and it was enjoyed by all. Getting outside in these dull and drizzly days does make you feel so much better and of course that social integration of being able to meet up with old friends and making new ones. Many new members joined for the winter season to continue to play as their own clubs, being grass greens, do not open in the winter
Waterlooville Bowling Club would like to wish everyone a very Happy and Healthy 2021 as we slowly get away from a very difficult 2020. The sun is slowly starting to shine on new horizons!
Take care and stay safe
You can find out more on the website waterloovillebowling.club.org or email wbcclub@outlook.com or call the club mobile on 07823 887623