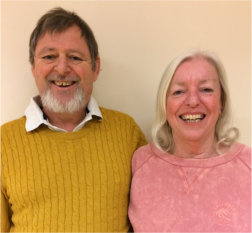 Bedhampton choir, Folks in Harmony, have just recruited their 39th and 40th members. The mixed choir was founded in 2012 as an alternative option to barbershop groups, and the singing is unaccompanied and in 4 part harmony. The group is known for being exceptionally friendly and welcoming to newcomers. There are still a few vacancies left for basses, tenors, altos and sopranos if you love to sing and fancy giving it a go!
Everyone is welcome to come along on a Thursday evening, to the Bedhampton Community Centre, next to the Volvo showroom in Bedhampton Rd, from 7.30pm to have a listen or join in. The choir sings an eclectic mix of tunes, ranging from songs from the musicals to folk, contemporary, spiritual and pop.
Each year the choir holds 2 concerts with the proceeds going to charity. Last year, the choir raised £1,540 for the Hampshire and Isle of Wight Air Ambulance and Key Changes Music Therapy based in Winchester. This year the choir be supporting the RNIB and Myaware who are campaigning for Myasthenia Gravis Association as they are both close to the hearts of choir members.
Folks in Harmony's newest recruits, Alan Key, who sings bass, and Deryn Hawkins, who sings alto, said, "We both wanted to join a mixed choir, and Folks in Harmony fitted the bill. We went along to their Thursday practice to find out more. Everyone is very friendly and welcoming, and they put us into appropriate voice sections. We also went to their Christmas Show and the sound of their performance convinced us that we wanted to join. We are so pleased now: we've made new friends and our singing has improved immensely."
The choir also sing in the local area supporting various charities and events, as well as at private functions. Anyone interested in joining or booking the choir can visit the website: folksinharmony.co.uk for more information, or ring MaryAnne on 023 9224 1633