The coronavirus lockdown has seen a surge in households looking to fill their unexpected extra time pursuing craft activities, and Havant-based craft organisation Making Space is bringing craft to local people thanks to support from ArtsWork and Tesco's Bags of Help fund.
The Arts Council England strategy for the next 10 years is called Lets Create, with a real emphasis on Community Engagement. This is a major part of what Making Space, a registered charity does - engaging with the local community and connecting people through craft.
In partnership with ArtsWork, and supported by a grant from Tesco's Bags of Help, Making Space has been distributing craft kits to families using the local Foodbank. These #LetsCreate packs have been supported by Arts Council England via Artswork the South East Bridge.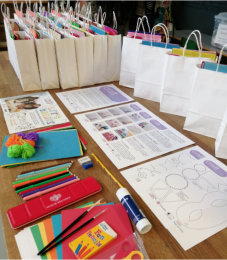 The kits include everything needed for eleven different craft activities, along with templates and instructions. Filled with pens, card, wool, scissors, paints, brushes and more, each kit will enable families to create greetings cards, felt bunting, pompoms, bracelets and more.
Ami Hyde, Outreach Project Manager at Making Space, has been putting the kits together. She said:
"We know how beneficial craft can be for people's mental wellbeing so it's not surprising people are turning to making during such a challenging time. As people can't come to us at the moment, we wanted to take craft out to people and this support from Tesco and ArtsWork has enabled us to do just that."
The first batch of kits has been distributed to 30 local households, and Making Space has received further funding from the Arts Council to distribute approximately 300 more kits to pupils attending Leigh Park schools in July.