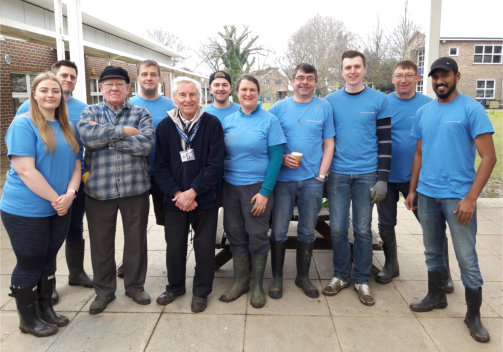 'We'd like another day of volunteering with Hayling Horticultural Society at Hayling College' was the message that came through to Community First from Lockheed Martin, a large technology company based in Havant.
The company were keen to continue their support for the Growing Together project set up by Bill Biggs and Ray Jones from Hayling Horticultural Society with the objective of crossing the intergenerational divide enabling children and adults to learn and have fun together.
Lockheed Martin UK - Integrated Systems (LMUK IS) regularly takes part in volunteering activities organised by Community First. They first visited Hayling College in October 2017 and spent the day preparing the fruit and vegetable cage, digging over the poly-tunnel and tidying up the pond area. They wanted to return to the college to continue work preparing the grounds, which in turn will enable the students to start planting fruit and vegetables ready for the new season.
William Ottley from Lockheed Martin said "It's been lovely to come back a second time and see the progress from our last visit. It's been great to work with enthusiastic pupils who care about the grounds and the future benefit to the school."
Bill Biggs from Hayling Horticultural Society was grateful for their return saying "We are delighted to see Lockheed Martin return to help the Growing Together project. They have done some wonderful work and once again they have been an inspiration to the students."
Ray Jones from the project said, "We are extremely grateful to Community First for organising volunteers - their help is invaluable getting projects off the ground."
The team worked hard preparing and clearing a number of different areas, with the help of some of the College students.
Gillian Jackman from Hayling College said "Now the ground is prepared the students will be able to plant vegetables. The intention is to sell the veg to the community and raise funds to keep the livestock we have at the College. Lockheed have helped immensely. Without their help it would have taken the students many days to get to this stage."