Stansted Park Farm Shop Apprentice Presented with National Award by HRH The Princess Royal at London Prize-giving Event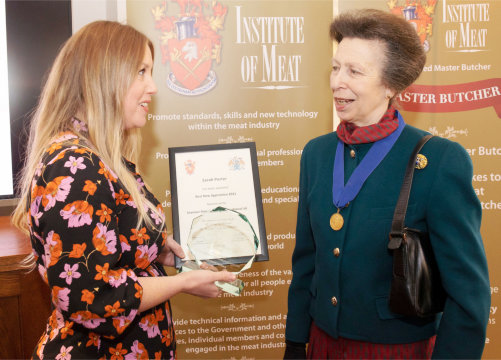 It's National Butchers Week, so we thought we'd highlight our fantastic award-winning butchery team that keeps our local community supplied with the finest cuts of meat around!
t's the perfect time to introduce our butchery apprentice, Sarah, who recently won 'Best New Apprentice' at the Institute of Meat Awards.
Sarah Porter, an apprentice with Stansted Park Farm Shop near Rowlands Castle, was named Best New Apprentice at the Institute of Meat (IoM) and Worshipful Company of Butchers Annual Prize-giving, held at Butchers Hall in London, on 24th February.
Sarah, who competed against apprentices from around the country has been working with Stansted Park Farm Shop since last year. She was presented with her certificate of achievement by HRH The Princess Royal, Past Master of the Worshipful Company of Butchers and Fellow of the Institute of Meat. She was also awarded a cheque to the value of £250 and a years honorary membership of The Institute of Meat.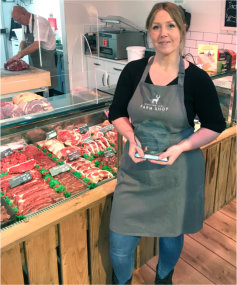 Sarah joined the Stansted Park Farm Shop butchery team as she wanted a change from her career as a Communications Manager and had always wanted to learn butchery.
She brought a superb customer orientated manner, a passion for food and cookery and a knowledge of where food comes from to the farm shop butchery counter. In return, she has been learning whole carcass butchery alongside the farm shop's two master butchers, Lee Harmes and Ray Treagust.
Sarah said "I feel completely honoured to have been awarded 'Best New Apprentice' by the IoM. To have achieved something like this so early in my apprenticeship is such a huge encouragement and I'm excited to continue my learning to see what the future brings. Thank you to my tutor, Henry Martin at Plumpton College and Lee Harmes at Stansted Park Farm Shop for their support and guidance"
Fred Duncannon, Co-Owner of Stansted Park Farm Shop said "We were extremely fortunate to have Sarah join us as an apprentice, as she already had a wide range of skills and knowledge from her previous career. She is quickly developing an excellent rapport with our customers and is friendly and knowledgeable. She can now develop her butchery skills alongside our hugely experienced butchers, while learning about the local provenance and quality of Hampshire and Sussex meat and game."
Stansted Park Farm Shop celebrates 10 years in business this year, having moved into new premises in 2017 with a butchery counter that offers the full range of local meat and game, including 30-day aged beef, lamb, hogget and mutton, wild estate venison, and fantastic free-range pork from Storrington. With whole carcass butchery, Sarah is learning about every cut, as well as quality, provenance and traceability, showcasing the best meat that Sussex and Hampshire has to offer.