Arts Society Portsdown member, Petronella Hoskins, becomes the 35,000th visitor at the Charterhouse in London where Queen Elizabeth 1 spent the first days of her reign.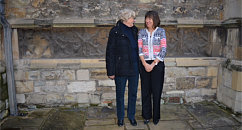 On a chilly and damp day in January earlier this year, a group of members of The Arts Society Portsdown visited the centuries old Charterhouse in Clerkenwell, London. To her great delight, Petronella Hoskins was honoured as the 35,000th visitor since the ancient building opened to the public in January 2017.
Pictured above is Petronella being welcomed by The Master of Charterhouse, Ann Kendrick, who presented her with a beautiful hardback book about the house.
The Charterhouse was originally London's largest cemetery for victims of the Black Death, becoming one of the most important monasteries in London until it was dissolved in the reign of Henry V111.
In 1611 it became a charitable hospital to provide a home and care to a community of elderly people known as The Brothers as well as schooling for poor scholars. The school has since moved to Godalming but The Brothers remain, now counting ladies, also known as Brothers, among their number!