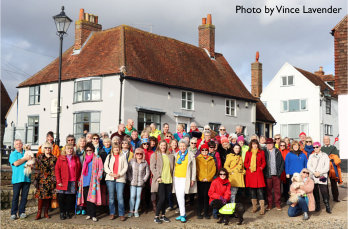 This year's Emsworth Arts Trail is set to be just as varied and exciting as ever. With 99 Artists taking part in venues throughout the town, it promises to be two weekends full of a diverse and interesting range of art.
"The Emsworth Arts Trail has certainly put the town on the map as a destination for art," said Carol Price, the event's chairman. "Now in our 19th year, we have seen visitor numbers grow year on year and art lovers arriving from far and wide."
Last year's event saw 99,000 individual visits recorded over the two weekends, an impressive increase since the trail began in 2001, with just a handful of artists exhibiting in their home studios.
The Trail includes many local businesses and community venues; Artists and makers exhibit their work in shops, halls, pubs, sailing clubs, home studios and pop up galleries. The result is a creative and colourful journey around Emsworth; it really is a community-wide event.
With the majority of venues located within a mile of the town centre, visitors can make a day out of it by walking or cycling along the trail.
The printed trail guide can be picked up in shops around Emsworth or in the library and includes a map so you can plan your visit. There is such a wide variety of work on show – painting, printmaking, photography, textile art, wood carving, ceramics, jewellery, glasswork, sculpture and new for this year, a blacksmith! There is something to interest everyone.
The Arts Trail takes place on 25-26 April and 2-3 May. To preview all the artists taking part, and plan your visit, see: emsworthartstrail.org.uk