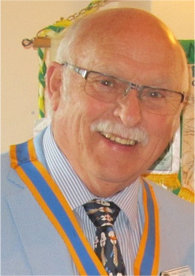 Retired Chief Engineer Chris Roberts took up the role of President of Havant Rotary recently and at his first meeting entertained Havant Rotarians with his exploits at sea. Chris had an Engineering Apprenticeship with Shaw Savill Line, firstly on Cargo ships and then SS Northern Star. She was a Passenger liner taking £10 ticket migrants to Australia via South Africa and returning from Australia and New Zealand across the Pacific, Panama Canal, Caribbean and Atlantic with loads of Young Aussies and Kiwis bound for the
Earls Court area of London.
Chris said, "One Fancy Dress evening on one of these return voyages the Senior Officers were sitting at a long table on the Ships stage to judge the best fancy dress when there was a kerfuffle and an agile naked streaker ran along the table and disappeared. We later learnt the young man was a stowaway who was living under the stage, helped by his friends. At the next port they were all rounded up and put off the ship!"
"My years at sea included Liners, Cruise Ships, Container ships, tankers, bulk carriers and a Townsend Thoresen ferry where I met my wife Yvonne on the ships bridge. During my years at sea I travelled over 1,250,000 miles."
Nowadays, Chris runs a GoCruise Agency (a franchise of Fred. Olsen Travel) arranging Cruises for others which keeps him in touch with the high seas.
Chris started his Rotary Journey when he was invited to join Havant Rotary in 2001 and has been an active member of the Club so he is looking forward to his year as President.
Chris says, "I am honoured to have been given the opportunity to be President for the forthcoming Rotary Year." He goes on to throw out a challenge to members of Havant Rotary .
"How can we as Rotarians help increase awareness of the environment and reduce the plastic pollution of our local seas and harbours? I hope you will support me in this so that at the end of my presidential year I can say – "We really made a difference".
Any readers interested in helping Havant Rotarians fulfil Chris's challenge can email him with your contact details, cys@seawise.plus.comand arrange to join Club members in a friendly meal and a chat. Today Havant Rotary has 47 members, including 9 ladies, and is one of the most proactive volunteering clubs in Wessex Rotary District 1110.