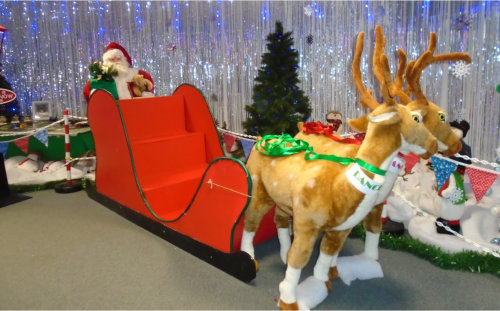 Park Community School through its Apex Construction Skills Centre has designed and built a Christmas sleigh for the local community on Leigh Park.
A group of year eleven students studying at the Apex Centre were responsible for the majority of the sleigh construction and had specific design requirements that made the project more complicated. The sleigh needed to be flat-packed for easy transportation, building access and storage purposes, presenting a testing challenge but with the guidance of the teachers, the students realised this goal could be achieved through good planning and design.
The main skills involved were carpentry-based allowing students to develop their own practical ability and problem- solving skills. Decoration of the sleigh, including painting it the iconic flame red colour, allowed students to learn techniques and about different types of paint. There was a lot of Mathematics involved as accuracy was essential to ensure that all joints are square and to make sure that up to four adults could fit and sit comfortably and safely in the sleigh.
"When asked to complete this project, I happily agreed to help. Not only does it help our local community get into the festive spirit, but it is also a great learning opportunity for our students," explained Daniel Payne, Head of Design & Technology at Park Community School.
The students are immensely proud of their achievement and saw it in-situ at The Leigh Park Christmas Grotto where it is currently on display and will be for years to come.