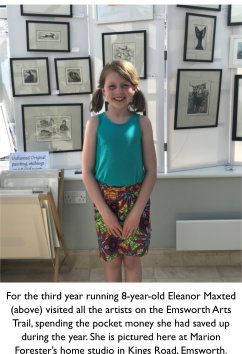 Come rain or shine the Emsworth Arts Trail 2018 bought art loves out in droves. Artists and makers welcomed hundred of visitors each day to their studios and venues throughout the town in a blaze of colour and a spirit of creative adventure.
People came from near and far to see an incredible range of art work; from printmakers to wood-turners, paper cutters to ceramicists, painters and jewellers, textile artists and glass fusers, there was a wealth of creativity on display at every turn of the trail.
Recent years have seen this event grow in popularity with close to one hundred artists participating in this year's trail. Local businesses also join in the artistic fortnight by giving artists window or wall space to display their work for all to see.
"All the venues on the trail are located within the town, or just on the outskirts, which really appeals to our visitors," explains Carol Price, Chairman of the Emsworth Arts Trail. "Many people walk or cycle with friends and family to meet artists and visit their studios. We even have some dedicated art lovers that visit every venue over the two weekends."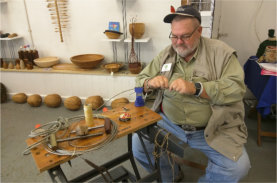 For the last three years running, Eleanor Maxted (aged 8) and her mum Alex visit every artist exhibiting on the Emsworth Arts Trial. During the year Eleanor saves up her pocket money to spend on the Trail and happily takes her time looking at all the work, choosing cards and talking to each of the artists.
Eleanor explains; "I love the arts trail a lot because I really enoy art and it's really fun. I have just done the whole arts trail for the third time running. I'm often inspired by the art work which means I like looking at the work for inspiration for my own art, and it's very enjoyable to do."
Another person going the extra mile is Robert Underhill (pictured below). Robert came from Australia to helping his friend and fellow knot tyer Ken Yalden during the trail. Robert and Ken are members of the International Guild of Knot Tyers. Robert was hoping to get ideas about the event for taking back home to Oz.