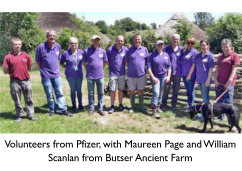 A group of nine willing volunteers from Pfizer returned for their annual event volunteering their time to undertake a variety of tasks at Butser Ancient Farm.
The team from Pfizer, a large business based in Havant, took time out of their working day to help at the archaeological site. The team were split into different groups for the day for different roles, and managed to achieve a huge amount.
Pfizer take part in monthly volunteering events around the Havant area organised by Community First, which include conservation, gardening, decorating and helping out at a food bank. Volunteering your time for a local charity or not for profit organisation, makes such a big difference to local organisations.
Maureen Page from Butser Ancient Farm said, "A large group of volunteers from Pfizer came to help us in June. They organised our enormous store of kindling wood for the fires in our houses, they washed down the walls in the corridor of our Roman villa in preparation for redecorating in true Roman style, and they helped us to paint the outside walls of the villa with the first coat. By helping to organise our wood store, we will now be able to access the roof of our great roundhouse later this month when we will be starting to re-thatch it. They were a lovely group to have here with us and we would like to extend a heartfelt thank you for all their hard work."
Julia a volunteer from Pfizer said, "It has been easy for us to come and volunteer our time today and very fulfilling to be able to see the huge results in such a short time. We will leave today knowing we have made an impact on the project and for the community to enjoy."
Another volunteer Clare said, "We've had a brilliant day helping out and it's been really nice to participate and I will definitely be back."
Without the support of local businesses, many community groups would struggle.