Increasing local testing capacity key to defeating virus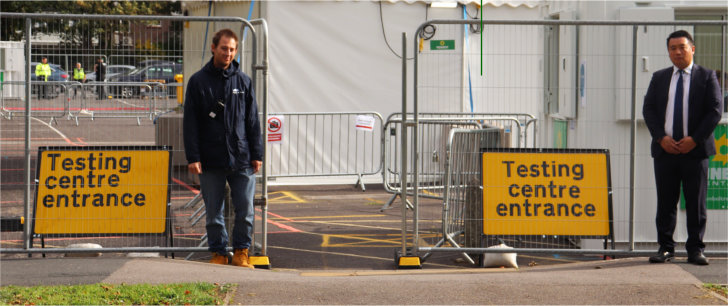 I know this has been for many a difficult year and as new national restrictions are introduced, I'm sure residents across the constituency will continue to make sacrifices in order to protect the NHS and save lives.
Key to helping us return to normality is increasing our local testing capacity and ensuring that anyone who has symptoms can receive a test locally.
I've been working with the Government to increase our local testing capacity and I'm delighted that NHS Track and Trace have launched a new Testing Centre in Havant on Civic Centre Road making testing more accessible to local residents. I visited the NHS team at the Testing Centre to thank them, and learn more about their work.
Those being tested will be required to follow public health measures, including social distancing, not travelling by taxi or public transport, practising good personal hygiene and wearing a face-covering throughout, including while travelling to and from the testing centre.
If you have symptoms please book a test online by visiting https://www.gov.uk/get-coronavirus-test
While it is important to stay safe through the pandemic, keeping our mental health positive is equally important, especially as new restrictions are introduced. That is why for World Mental Health Day I launched a new advice guide aimed at residents facing isolation or mental health challenges during coronavirus.
My free online Mental Health Guide has been supported Queen Alexandra Hospital, the Portsmouth and East Hampshire Samaritans and mental health charity Mind, giving some tips to residents on how to improve their well-being.
That includes advice for over 55s who might be living alone or have been shielding during the lockdown in recent months and might do so again in future.
If you are having mental health difficulties or want to find out how to keep your mind active please read the guide on my website by visiting www.AlanMak.org.uk/MentalHealthGuide
Don't forget you can still nominate for my Coronavirus Community Hero Awards. The awards highlight residents, community groups, businesses and others who helped others in the community during the current outbreak, especially during the lockdown.
If you know someone who has made a contribution to helping the vulnerable or those in need, please nominate them through my website to thank them for their work by visiting www.AlanMak.org.uk/HeroAwards
I hope that everyone stays safe and I'll continue to provide regular updates to my email newsletter subscribers. If you wish to subscribe for updates, visit AlanMak.org.uk/Newsletter.