Eat Out to Help Out to boost our local economy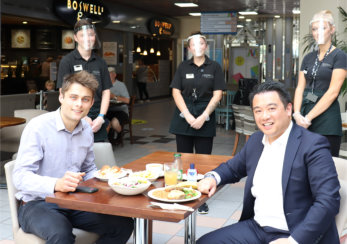 After a difficult few months I hope readers are now starting to enjoy the summer, while adhering to the Government's guidance as we come out of lockdown.
Some of the hardest hit businesses during lockdown were restaurants, pubs and cafes, so I was pleased to see so many taking advantage of the Eat Out to Help Out scheme. In recent weeks, I've been visiting some of these as they re-open, including Boswells Café in the Meridian Centre, Driftwood in Emsworth and Tanya's Kitchen in Leigh Park.
Over twenty businesses in the constituency have signed-up so far. If you visit on Mondays, Tuesdays and Wednesdays in August you'll receive a half price meal up to the value of £10.
To help you find businesses that have signed-up, the Government has launched a restaurant finder which you can visit at https://www.tax.service.gov.uk/eat-out-to-help-out/find-a-restaurant/
Eat Out to Help Out is just one of many Government schemes that are helping both businesses and people in the constituency.
In total across the Havant constituency, 12,100 people have had their job protected through the Job Retention Scheme, self-employed people have accessed £13.7million worth of Government grants, and £11.5 million worth of grants has been handed out to businesses in the Havant Constituency, which do not need to be paid back.
These have all been lifelines and will be vital in helping our local economy bounce back stronger than before.
Last month, there was also success for my Emsworth Library campaign in partnership with the local community and councillors as Hampshire County Council (HCC) confirmed that the Library will not close.
It comes after a consultation by the HCC, where they earmarked Emsworth Library as one of 10 around the county for complete closure. That was due to the high rent of the building in the town centre currently used to house the Library previously agreed by HCC.
But following my successful campaign the Library will now move to a building with lower costs, meaning it will stay in the heart of Emsworth.
Don't forget, you can still submit a nomination for my Coronavirus Community Hero Awards which recognise the contribution that many in our community have made. If you know someone who has made a contribution to helping the vulnerable or those in need, please nominate them through my website to thank them for their work. It could be an individual, business, community group or voluntary body.
You can nominate online by visiting AlanMak.org.uk/HeroAwards
I hope that everyone stays safe and I'll continue to provide regular updates to my email newsletter subscribers. To subscribe for updates, visit: AlanMak.org.uk/Newsletter