Report on my work locally and in Westminster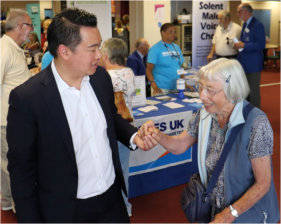 There was a brilliant turnout for my fourth Community Groups and Older Persons Information Fair.
We had more than 1,000 people come on the day to hear about some of the wonderful community groups in our area as well as receive information from statutory bodies such as the police and council.
Thank you to everyone that came, from the exhibitors to the residents that attended, the event showcased the very best of what's on offer in our constituency.
I was also pleased to once again support Dementia Friendly Havant, with a Dementia Friends sessions being run at the event.
I believe it is important to increase public awareness and understanding of dementia among the wider public to ensure that people are supported to live well with the condition and I am encouraged that there are almost 2.5 million across the country are now Dementia Friends.
Here in our constituency there is the excellent aim to make Havant a Dementia Friendly Town. This follows the example set by Hayling Island, which has become a Dementia Friendly Community involving local businesses and residents.
Across the Borough there are approximately 2,000 people living with dementia, so action we take locally to raise awareness and train residents can make a big difference. For those that were unable to come to my Information Fair, and are interested in becoming a Dementia Friend, regular session take place in the constituency. For more information visit www.dementiafriendlyhampshire.org.uk
I'll now be looking ahead to my next major event, which is my revamped Small Business and Community Awards. Renamed with a community focus, residents can now nominate people who have not only been successful in running small businesses but also people who do great work for the community, for example running a voluntary organisation.
Whether it is your favourite café, restaurant or shop – or you want to recognise a community champion who has gone the extra mile – please send me your nominations online.
Visit AlanMak.org.uk/Nominate for more information and to nominate online.