Accessible autumn – experience one of most magical times of the year in South Downs National Park
"Delicious autumn! My very soul is wedded to it, and if I were a bird I would fly about the Earth seeking the successive autumns."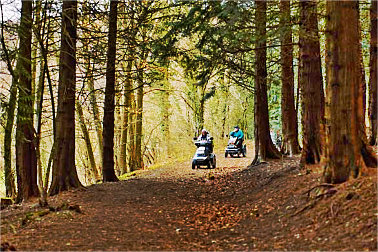 The famous writer George Eliot knew there was something very special about autumn and many would agree it's one of the best times of the year to see the South Downs National Park.
It's a season of morning mists and sensational sunsets, where a stroll with crunchy leaves underfoot followed by a hot chocolate can bring a warming sense of comfort and reflection that only the "fall" season can inspire.
With a quarter of the National Park covered in woodland – a bigger area than any other National Park in England – there's plenty of leaves to change colour and eventually fall. Did you know that the phrase "fall of the leaf" was very common up until the 17th century and the French "automne" only became common in the 18th century?
Those looking to explore the wonders of autumn will find one of the most accessible protected landscapes in the UK. With over 3,600km of Rights of Way (2,200 miles…around the same distance from here to Cyprus!), the famous 100-mile long South Downs Way, and a large network of railway and bus connections across market towns and chocolate-box villages, you can experience tranquil nature while only being a stone's throw from a pub or shop.
Andy Gattiker, who leads access in the National Park, said: "Autumn is such a wonderful time to explore the South Downs, especially the later sunrises and earlier sunsets which mean the 'golden hour' for photography often occurs when you're out and about on a walk.
"The tree cover in the National Park is about the same size as the Isle of Wight, so you're never far away from a lovely woodland walk to see all the vibrant shades of yellow, red and orange in the tree-scape.
"Not everyone loves mud and negotiating stiles, so autumn is a good time to try out one of our Miles Without Stiles routes. There's seven across the National Park and they are gentle walks on solid ground that the whole family can enjoy, regardless of their fitness or mobility levels. We also have off-road mobility scooters for hire at Queen Elizabeth Country Park and Seven Sisters Country Park.
"We hope people enjoy experiencing the autumnal magic of this treasured landscape!"